All-on-Four Dental Implants in Homer Glen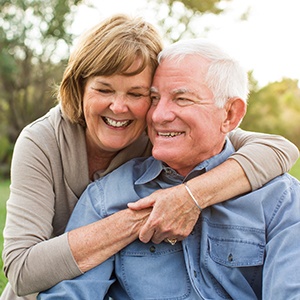 Did you know that more than 35 million Americans are missing all of the teeth on their upper and/or lower arch? Of course, if you are one of those people, then the fact that you're in a crowd is little comfort. You must still contend with the difficulties, discomforts, and discontent of tooth loss. But what if you could replace all of your missing teeth in one day? With All-on-Four implants from DeAngelo Dental of Homer Glen, you can have a full smile with just one convenient visit to our Homer Glen dentist office.
As the name suggests, All-on-Four dental implants secure a full set of permanent teeth on just four implants. A dental implant is a small titanium post that is surgically placed into your jawbone. These implants can be used to restore just one missing tooth with a lifelike crown or, as with All-on-Four implants, they can replace an entire arch. Rather than one implant for each missing tooth, All-on-Four firmly secures your full smile with four strategically positioned posts.
All-on-Four Implants Process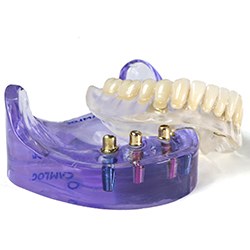 In order to ensure you receive the best possible care during the minor oral surgery required to position your implants, Dr. DeAngelo partners with an oral and maxillofacial surgeon. With time, this biocompatible post fuses with your bone tissue. This not only provides a sturdy foundation for your new teeth but also prevents the bone deterioration that can happen when teeth roots are missing. Thus, you avoid the sagging facial appearance that often results in tooth loss.
After your surgery, Dr. DeAngelo will place a temporary set of teeth on your implants. As with just about any surgery, you need time to heal properly. However, you will not leave our Homer Glen dental office without teeth! With All-on-Four dental implants, you will have a complete smile at the end of your surgical appointment. Then, after a few months, you'll return to our office for Dr. DeAngelo to place your permanent teeth.
To care for your new smile, you'll brush and floss your teeth just as you would natural teeth. Our dental hygienists can help you set up an at-home oral hygiene routine that fits your schedule. Dr. DeAngelo can remove your permanent teeth if there is ever a need. But chances are, you'll never want to part with your new smile!