Implant-Retained Dentures – Homer Glen, IL
Sturdy, Long-Lasting Full Arch Tooth Replacement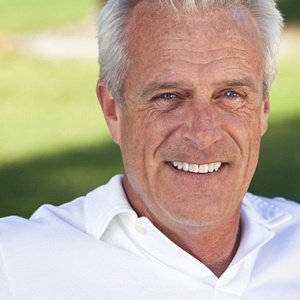 Traditional dentures offer some significant benefits. For example, they can be quite natural-looking and restore a person's ability to eat most foods. However, many patients find that they would prefer a sturdier, longer-lasting way to replace their missing teeth. That is why Dr. DeAngelo is proud to offer implant-retained dentures in Homer Glen. This type of prosthesis offers all of the benefits of traditional dentures and so much more.
How Do Implant-Retained Dentures Work?
Like a traditional denture, an implant-retained denture consists of a full set of artificial teeth that are attached to a gum-colored base. However, instead of simply resting on top of the gums, an implant-retained denture has small attachments on the bottom of it that "snap" onto dental implants there were surgically placed into a patient's jaw. In some cases, a patient's existing traditional denture can be retrofitted to work as an implant-retained overdenture. Most of the time, however, it is necessary to design and fabricate an entirely new prosthesis.
Am I a Candidate for Implant-Retained Dentures?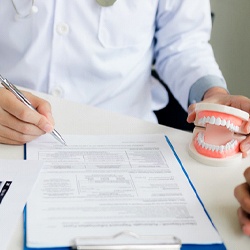 You may be a candidate for implant-retained dentures if:
You are missing all or most of your teeth
You are frustrated by your traditional denture
Your jawbone is strong enough and large enough to support dental implants in Homer Glen
You are free of significant oral and overall health problems that could compromise your ability to heal after dental implant surgery
To find out for sure whether you are a candidate for implant-retained dentures, schedule a consultation with Dr. DeAngelo, your dentist in Homer Glen. After he performs a thorough examination of your mouth and talks to you about your goals and expectations, he will recommend the best tooth replacement option for your unique circumstances.
The Implant-Retained Dentures Procedure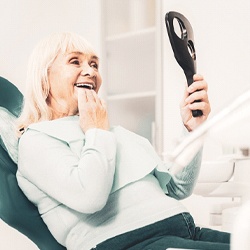 Some patients need to undergo preliminary work before they're eligible to receive dental implants. For example, gum disease treatment or bone grafts are sometimes necessary. After any preparatory procedures, you'll undergo the dental implant placement surgery; Dr. DeAngelo will refer you to a local oral surgeon for this part of your tooth replacement journey.
After you've healed sufficiently from the surgery and your body has had a chance to bond with the dental implants, you'll return to our office. Dr. DeAngelo will carefully design a denture that provides you with a comfortable bite and aesthetics that complement your natural facial structures.
Benefits of Combining Dentures and Dental Implants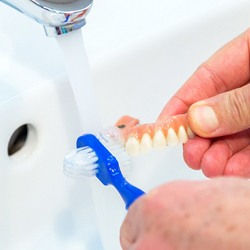 Some of the most outstanding benefits of implant-retained dentures include:
Like traditional dentures, implant-retained dentures are removable. Thus, it will be easy for you to keep your gums, your prosthetic, and your dental implants clean.
The bite force that implant-retained dentures provide is almost as strong as that of natural teeth.
Your implant-retained denture will never slip or fall out of your mouth when you are speaking or eating.
Because dental implants help to keep the jawbone strong, you won't have to worry that your denture will stop fitting due to changes in your bone structure.
Are you ready for a new, implant-supported smile? Contact our team today to schedule a consultation at DeAngelo Dental of Homer Glen.