Dentures
For Homer Glen Patients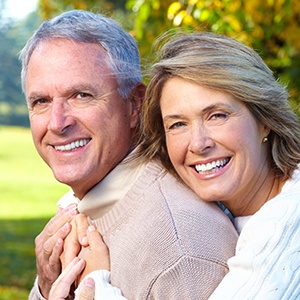 It's never easy to face problems relating to missing teeth. Whether your teeth were knocked out, extracted, or have simply fallen out, it's important to your self-esteem and the function of your mouth to replace them. With today's technology and continually-improving techniques, people don't have to live with the frustration and embarrassment of missing teeth. Compassionate and skilled dentist Dr. Alan R. DeAngelo can provide implant restorations, fixed bridges, and partial or full dentures for our Homer Glen patients to help them reclaim their smiles. Call DeAngelo Dental of Homer Glen to schedule your appointment and start getting a new and improved smile.
What Are Dentures?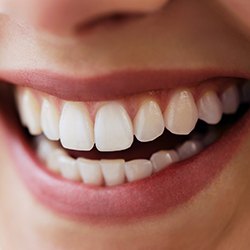 Dentures are a restorative solution that allows patients with missing teeth to enjoy a full, complete smile once again. Created with artificial teeth and a natural, gum-colored base, these prosthetics have come a long way from the days of George Washington and his wooden teeth. Fortunately, advancements in dentistry have made it possible for patients to embrace a completely natural look that is affordable, convenient, and long-lasting.
What Does a Good Denture Candidate Look Like?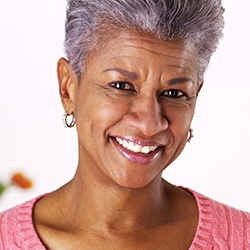 Patients who are missing an entire row of teeth (top or bottom) or multiple teeth along an arch can qualify for dentures. Dr. DeAngelo will need to perform a full examination on your oral cavity and look at the state of your jawbone to determine which type of denture is right for you (i.e. full, partial, overdenture). An ideal candidate will have good gum health and sufficient jawbone density to support the prosthetic.
Based on his findings as well as your current state of health, he will recommend a solution that will give you back the confidence you need and the smile you deserve.
What is the Difference Between Full and Partial Dentures and the Benefits of Each?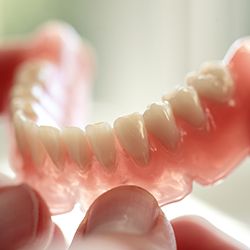 Full and partial dentures are made of prosthetic teeth anchored to a gum-colored base. A partial replaces multiple teeth and fits in with existing teeth, much like a jigsaw puzzle. Full dentures, on the other hand, replace all teeth on the upper or lower jaw.
Usually, partials stay in place with clasps, while full dentures require adhesive cream for security. However, if you would prefer a partial or full denture that will not slip out of place, an overdenture with dental implants may be your best option.
No matter if you choose a full or partial denture, you can expect to see a noticeable difference in the look and feel of your new smile. While these prosthetics are removable and will require that you remain diligent in your oral hygiene routine, they are extremely affordable and allow patients with missing teeth to recapture a more youthful appearance and bite functionality than before. Not to mention, the restorations created today are far more natural in appearance and offer greater support than those created even 20 or 30 years ago!
Implant-Retained Dentures Aftercare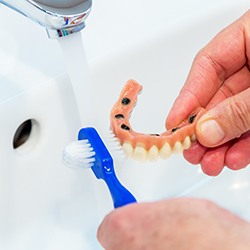 If you choose to have implant-retained dentures (overdentures) put into place, you can expect you will need to follow are a few simple rules to ensure your new restoration is a success. Some of these include:
Use a small, soft-bristled toothbrush to clean your overdenture. You may even wish to use an electric toothbrush. Not only will you want to clean your denture, but you will also want to make sure you are thoroughly cleaning around your implants.
When removing your denture to clean your gums and implants, make sure to floss around the visible parts of your implants and just underneath the gum line to ensure food debris and bacteria do not accumulate.
It is best if you rinse your mouth twice a day with an antimicrobial mouthwash.
Make sure you're brushing at least twice a day for two full minutes. It is often better if you brush after every meal.
Allow them to soak overnight to eliminate any odors and bacteria.
Keep your regular six-month appointments with Dr. DeAngelo to ensure your mouth remains healthy and your overdenture in optimal condition.