Veneers – Homer Glen, IL
Bring Your Dream Smile to Life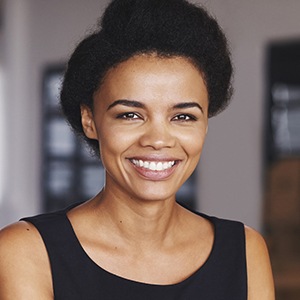 Would you like to turn your seemingly lackluster teeth into a beautiful row of pearly whites? Whether you need to conceal a broken or chipped tooth or completely alter the appearance of multiple teeth, our Homer Glen cosmetic dentist, Dr. Alan R. DeAngelo, can help! With our talented team at his side, he can use veneers to bring your dream smile to life. Want to learn more about this popular cosmetic dentistry treatment? Then read on or get in touch with our team today to schedule a veneers consultation at DeAngelo Dental of Homer Glen!
Why Choose DeAngelo Dental of Homer Glen for Veneers?
Recipient of the Top Doc Chicago Award
Team with 80+ 5-Star Reviews
Morning, Evening, and Weekend Appointments
What Are Dental Veneers?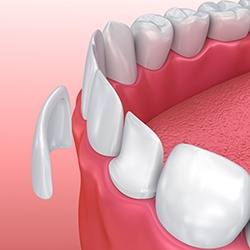 In short, a veneer is a thin, tooth-shaped shell of a high-quality dental material, like porcelain. When adhered to the front-facing surface of your teeth, they can conceal chips, gaps, stains, and other common dental flaws. Whether you want to address one misshapen tooth or you want to completely transform your smile, Dr. DeAngelo can use veneers to create the look you've always wanted.
The Process of Getting Veneers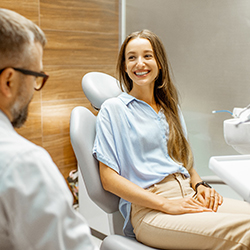 If you would like veneers in Homer Glen, you'll first meet with Dr. DeAngelo for a thorough oral health exam and consultation. Bring photos of smiles that you admire, and we'll help you determine which attributes would work well with your face shape and other qualities. Once we understand your goals and vision, Dr. DeAngelo will create a wax model of your smile as it would appear after porcelain veneers are permanently placed. The model will allow you to see and feel the proposed results while allowing Dr. DeAngelo to address any positioning concerns.
Next, we will provide you with temporary veneers until your final restorations are ready. Dr. DeAngelo works with a trusted dental lab that uses fine dental ceramics to handcraft veneers that truly transform a person's appearance. Once we receive your final veneers from them, you'll come back to our office to have them placed. Just review a few of Dr. DeAngelo's before-and-after photos, and you'll see for yourself that exquisite porcelain veneers can work wonders for a person's appearance.
The Benefits of Veneers
Because the porcelain the lab uses mimics nature, your new smile will reflect light as natural teeth do. The shading of your veneers will blend seamlessly with the surrounding teeth. You won't believe the transformation at first, but the reaction of your friends and loved ones will verify that your dream has become reality. If that wasn't impressive enough, there are several additional benefits of veneers:
The entire process can be completed in just two appointments
The results can last for 15+ years with proper care
You can address a wide range of dental flaws simultaneously
Each veneer is custom-made just for you
Hassle-free oral hygiene
Understanding the Cost of Veneers
Want to learn more about the cost of veneers in Homer Glen? We can help! While we can't provide you with a cost estimate without an appointment, we can review some all-encompassing factors that affect the answer. To learn about the investment compared to other cosmetic dental treatments and how we can help make veneers affordable, read on.
Cost VS Cosmetic Dentistry: What's Right For Me?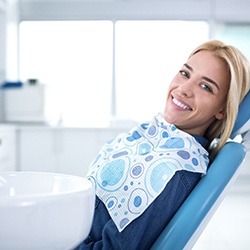 Veneers may be one of the most popular cosmetic dental treatments, but they aren't the only ones. When comparing the cost, it's important to keep the below information in mind:
Braces – Although braces are quite an investment, they are one of the most reliable teeth-straightening options. Of course, they don't address the color or shape of your teeth. So, if you want to address stains, chips, and the like, you'll need to factor in the cost of additional treatments.
Teeth Whitening – Professional teeth whitening treatments tend to be more mid-range in terms of cost. While an in-office treatment can lighten your teeth up to eight shades in a single visit, it can't correct misalignment or tooth shape. Plus, the results don't last anywhere near as long as veneers.
Direct Bonding – Direct bonding is one of the most cost-effective cosmetic dental treatments. The one "downside" is that the results typically only last for a few years at a time. Additionally, it's meant for more minor imperfections, like small chips, not major ones.
Veneers – Veneers are another cosmetic dental treatment that requires a higher upfront investment, but there's good reason for it. To begin, each veneer is custom-made, making them incredibly versatile. Plus, they can address a wide range of dental flaws simultaneously and the results can last for 15+ years with proper care!
How to Make Veneers Affordable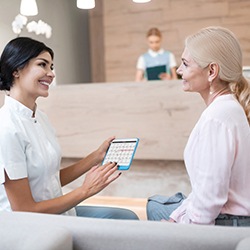 Our team doesn't want achieving the smile of your dreams to be anything short of an exceptional experience. To ensure the financial aspect of your care is stress-free, we proudly welcome CareCredit and offer periodic specials. With CareCredit, you can space out your payments into budget-friendly chunks. With patient specials, you can lower your out-of-pocket expenses even further. To learn more about either of these options, get in touch with our team today!
Veneer FAQs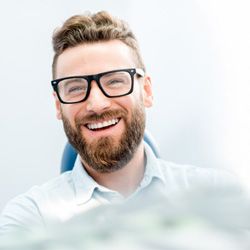 If want to improve your smile, you may be thinking about getting veneers in Homer Glen. They're able to address multiple dental imperfections at once, turning your pearly whites into a set you'll proudly show off. Before moving forward with the process, you probably have several lingering questions in mind. Our team wants you to be as well-informed as possible, which is why we've decided to answer some frequently asked questions below. Should you not find what you're looking for, feel free to contact our office for personal assistance!
Are Veneers Permanent?
Not necessarily! Because you'll eventually have to replace veneers, they're not considered permanent. However, the process of getting veneers in Homer Glen is irreversible. In preparation for their placement, Dr. DeAngelo will remove a thin layer of enamel to ensure the restoration sits properly against your teeth. Unlike hair and nails, your enamel will never grow back once it's gone. As a result, your prepared teeth will forever need to be covered with crowns or veneers.
Will I Still Be Able to Drink Coffee with Veneers?
Porcelain veneers are stain-resistant, meaning the particles in dark-colored foods and drinks will have a much harder time penetrating the surface. Therefore, you can drink coffee without having to worry about it staining your new smile. Of course, just because veneers are stain-resistant doesn't mean they're stain-proof. Overconsumption of coffee could still have a negative impact on your veneers. If you want them to last as long as possible, you should consume dark-colored beverages in moderation.
Do Veneers Give You a Lisp?
When you first get veneers in Homer Glen, you may have difficulty pronouncing certain words or making specific sounds. That's largely because your tongue is not used to accounting for the presence of veneers when you talk. Even though it's only a tiny difference in thickness, it still affects the way your tongue moves. With lots of practice, your speech will eventually return to normal and any lisp you develop will go away. If needed, Dr. DeAngelo can reduce the thickness of the veneers in a certain area to make the lisp go away.
Is It Painful to Get Veneers?
It shouldn't be! Dr. DeAngelo will numb your mouth for veneer placement, which means you shouldn't feel any pain during the procedure. However, you may experience mild sensitivity and pain after the veneers are attached. Post-treatment discomfort is more common when multiple veneers are placed. The good news is you can manage these side effects with over-the-counter pain medication and cold compresses.