Teeth Whitening – Homer Glen, IL
Achieve a Smile You Can Be Proud Of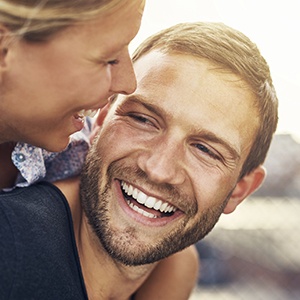 Your smile is important to you - after all, it's one of the first things that others notice when meeting you, according to recent surveys. To help you make the best first impression, Dr. Alan R. DeAngelo offers a variety of cosmetic dentistry solutions. Among these beneficial services, professional teeth whitening in Homer Glen is one of our most popular. Our practice is happy to offer in-office and at-home teeth whitening treatments to create your brilliant smile. Ready to get started? Call us today and schedule your appointment!
Who is a Good Candidate for Teeth Whitening?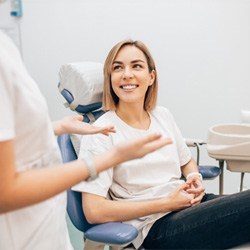 In truth, almost anyone unhappy with the color of their smile can benefit from professional teeth whitening in Homer Glen. Of course, the only way to know for sure whether or not you qualify is by attending a consultation with Dr. DeAngelo. At your appointment, he'll review your medical history and assess your oral health to determine which treatment option is right for you. Based on his findings, he'll create a custom treatment plan to help you get the bright results you want.
How Does Teeth Whitening Work?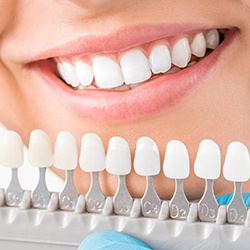 During your consultation, Dr. DeAngelo will explain your teeth whitening options. You'll learn more about in-office treatment and take-home whitening kits. While they're both capable of producing stunning results, each method has a unique process.
Take-Home Teeth Whitening
If you would like to gradually whiten your smile, Dr. DeAngelo can recommend our at-home whitening system. A member of our team will fit you for a customized whitening tray and provide a prescription whitening gel. On your own time, you'll load the gel into the trays and wear them for the prescribed amount of time. You'll reach your optimum whitening level in about two weeks. You can also use this at-home care to upkeep the brilliant results of your in-office Zoom! treatment.
In-Office Teeth Whitening
Our team uses Zoom! Whitening for in-office teeth whitening in Homer Glen. Zoom! Whitening has been shown in clinical trials to effectively erase deep-rooted stains in enamel to lighten teeth by as much as eight shades. In-office teeth whitening only takes about an hour and you'll emerge from Dr. DeAngelo's dental office with a shining white smile. This option is best if you want to immediately see the results of your cosmetic service at our Homer Glen location or if you want your teeth brighter for a social event, such as a wedding! Dr. DeAngelo is happy to help his patients feel and look beautiful.
Tips for Maintaining Your Brighter Smile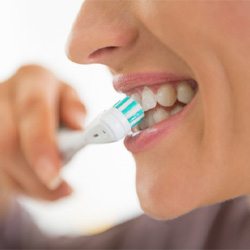 Want to keep your smile looking its very best for as long as possible? You can maintain your bright results by taking the following steps:
Reduce your intake of dark-colored foods and drinks (i.e., soda, coffee, tea, red wine, soy sauce)
Practice good oral hygiene (i.e., brush twice a day, floss daily, rinse every day with an ADA-approved mouthwash)
Visit your dentist regularly for checkups and cleanings
Avoid poor dental habits (i.e., smoking, biting your fingernails, using your teeth as tools)
Inquire about at-home touch-ups to maintain your results