Homer Glen Emergency Dentistry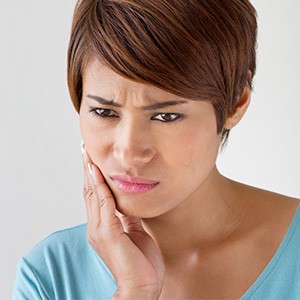 You can't always plan for a dental emergency, but when emergencies happen, patients at DeAngelo Dental of Homer Glen know they always have a place to go for help. Our skilled dentist and caring team are happy to offer same-day urgent dental care for patients experiencing emergencies. The goal is always to relieve pain immediately. Then, we partner with you to make a plan to repair your damaged smile. No matter what day or time, give our team a call for help during a dental emergency. Whenever possible, we provide same day appointments. If we're unable to see you right away, one of our knowledgeable team members will be happy to walk you through at-home care and pain management to ensure you are safe and comfortable until you reach our practice.
Common Dental Emergencies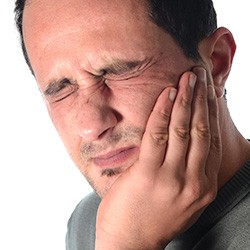 If you or a loved one are experiencing toothache or dental damage you believe requires urgent care, chances are you're correct. If your specific situation does not call for immediate attention, we can still begin planning for your restorative dentistry services right away to prevent advanced oral health concerns. Some of those oral health concerns we treat most often as emergencies include:
Knocked out teeth or dental restorations
Broken teeth or dental restorations
Bent or damaged partial or full dentures
Severe toothache or dental sensitivity
Soft tissue infection or inflammation
Soft tissue lacerations
Foreign item stuck between teeth
Caring for Your Smile at Home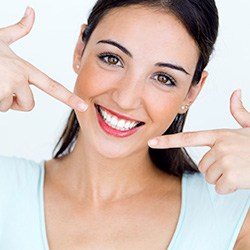 During a dental emergency, one of our team members will walk you through how to care for your damaged smile. However, some basics you should keep in mind include:
Retrieve knocked out teeth or pieces of teeth and handle them by the biting surfaces
Use gentle pressure using cloth or gauze to slow bleeding
Clean off broken teeth or damaged oral tissues using cool water, but do not scrub or use oral hygiene products unless specifically directed to do so
Use ice packs and cold compresses to relieve pain, reduce swelling, and slow bleeding
Use floss to remove items stuck between teeth, but don't poke or prod the item with sharp objects
Take aspirin, acetaminophen, or ibuprofen as directed, but don't place pain relievers directly onto damaged teeth
Preventing Dental Emergencies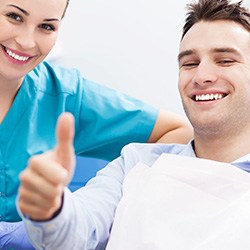 As is often the case with dental care, the easiest way to keep your smile whole, healthy, and pain free is to practice good at-home preventive hygiene and avoid certain behaviors that put you at greater risk for a dental emergency. Some easy ways to decrease your risk for dental emergencies include:
Brush teeth for at least two minutes at a time at least two times each day. Use a soft bristled toothbrush and fluoridated toothpaste to maximize the efficacy of tooth brushing.
Floss at least once each day.
Visit our office two times each year for preventive dental checkups.
Wear mouthguards as directed to protect smiles from teeth grinding and clenching or during athletic competitions and practices.
Do not chew on ice, fingernails, and other hard objects.
Do not use teeth as tools to open packages or crack nuts.
Dental Emergency FAQs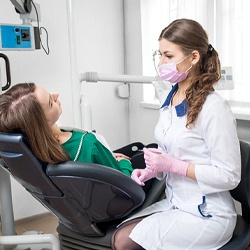 When attempting to find an emergency dentist who can administer immediate care, you want someone eager and willing to help. Fortunately, you will find that with our team at DeAngelo Dental of Homer Glen. Offering same-day emergency care, we will treat your damaged tooth, soft tissue injury, or broken restoration and get you back to enjoying life. But what should you do in the meantime until your appointment? How can you minimize pain while at home? These are just a few of the many questions people often ask when dealing with a dental emergency. To provide clear, transparent information, Dr. DeAngelo has compiled the answers for you to review. Should you have any additional inquiries, we invite you to contact our office.
How can I best manage the pain I'm experiencing?
There are two ways in which you can decrease your discomfort while waiting to see us: taking an over-the-counter pain reliever and using a cold compress. Not only will the latter minimize pain, but it will also help to lower any swelling that may be occurring as a result of your injury. The type of pain you feel, no matter how minor or severe can be a clear indicator of something more damaging occurring beneath the surface of your teeth and gums, which is why it's important that you get in to see us sooner rather than later.
If I'm out of town or on vacation and experience a dental emergency, what should I do?
The quick answer is to see a local dentist as soon as possible. Do not wait until you return to seek help. Not only can this cause more damage to your oral cavity, but it can also cause you to miss out on receiving immediate relief and assistance and be unable to enjoy the rest of your time spent away from home. By seeking care from a local professional, you can quickly take care of the problem before it worsens. Just make sure to call our office and let us know about the situation. We may go ahead and schedule an appointment for you to come in when you return.
What emergencies warrant a trip to the emergency room?
Only in very few cases should you bypass a trip to our office and head straight to the emergency room. These instances include:
Severe facial trauma (i.e. broken/fractured jaw)
Increased swelling around the face, neck, jaw, and mouth
Continuous bleeding from the mouth that does not cease after applying adequate pressure
Otherwise, you are strongly encouraged to set up an appointment with Dr. DeAngelo. He is equipped to address all types of dental emergencies and can offer the appropriate method of treatment that will prevent additional damage and have you resuming normal activity as soon as possible.
Why should I seek immediate care for my dental emergency?
Oftentimes, people who sustain mouth-related injuries play down their symptoms and opt to forgo help. Why? It can be for many reasons, some of which include money, time, or a belief that the damage isn't as bad as it really is. Unfortunately, choosing to remain at home and "let your mouth heal itself" isn't good advice at all and can result in additional problems developing throughout the oral cavity and body.
Seeking immediate care for your dental injury is a must, even if you are worried you will be unable to cover the costs. Most dental offices, including ours, accept many dental insurance plans and offer available financing to help you stay within your budget.