Dental Implants — Homer Glen, IL
The Ideal Solution for Missing Teeth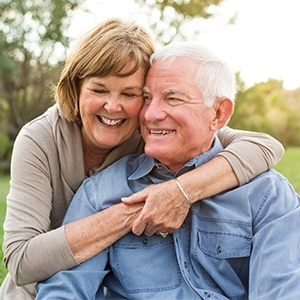 Missing teeth can inhibit the ability to chew foods and speak clearly. Cosmetically, they impair a smile, which causes embarrassment and low self-esteem. Solutions have existed for decades: bridgework, partials, and full dentures. However, these options don't always look, feel, and function like natural teeth. Dr. DeAngelo is highly trained in dental implant restoration, which means he can offer you a tooth replacement solution that Mother Nature would commend. If you're interested in learning more, continue reading or call our office today to schedule your appointment at DeAngelo Dental of Homer Glen!
Why Choose DeAngelo Dental of Homer Glen for Dental Implants?
Partnered with Trusted Local Dental Implant Specialists
30+ Years of Experience with Dental Implant Restoration
Free Dental Implant Consultation
What Are Dental Implants?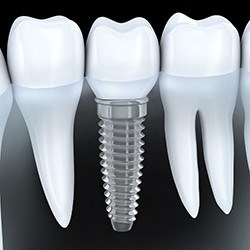 Dental implants are small, titanium fixtures that are placed directly in the socket of a missing tooth. An implant will fuse to the jawbone and act as a tooth root, providing stability for single crowns, bridges, or overdentures. Dr. DeAngelo has restored dental implants in Homer Glen since 1986 and works with area oral surgeons for precise implant placement.
Dental Implants: The Team Approach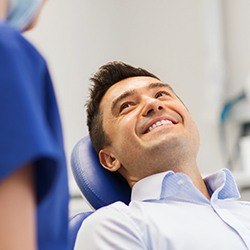 We've all heard the phrase, "Jack of all trades," and nowhere in dentistry does it apply more than in the art and science of dental implantology. Dr. DeAngelo partners with an oral-maxillofacial surgeon to restore his implant patients with state-of-the-art treatment that meets or exceeds the highest standard of care. Having restored dental implants for over 30 years, Dr. DeAngelo has worked with numerous dental specialists who place dental implants and has chosen who he feels is the best in their field to partner with.
Dental implants are so much more than just screwing something into your bone. It takes proper planning, bone grafting if proper bone support is not present, and precise placement. After all, you can't build a stable house on a weak foundation. That's why proper bone support is so important!
With 28 years of dental implant restoration experience, and a surgeon who has placed almost 18,000 implants and teaches implant placement and bone grafting internationally, to other surgeons, you get the best of both worlds for your dental implant experience.
The 4 Step Dental Implant Process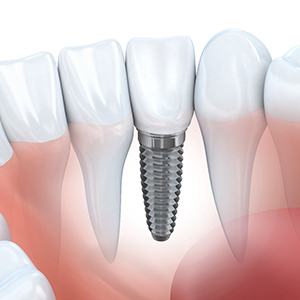 Ahead of your tooth replacement via dental implants, whether you're replacing single, multiple, or all the teeth in your smile, you'll need to understand the process in better detail. Dr. DeAngelo and his team will gladly explain each phase of treatment at your initial consultation. It's true that due to the high level of customization dental implants provide, your treatment will likely differ from other patients. Regardless, we encourage you to give our office a call so we can help you get started!
Initial Dental Implant Consultation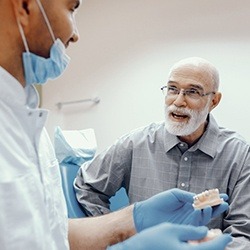 At your initial visit, it's important to confirm if you are first eligible to receive dental implants. Without healthy gums and enough supportive bone tissue, there's no way to know for sure if the dental implants will be able to stay in place as intended. That's why our initial examination is incredibly comprehensive, complete with panoramic digital X-rays designed to make viewing your underlying bone tissue quick and easy. While more patients are eligible for dental implants than ever before, these exams are necessary to make your care predictable.
Dental Implant Surgery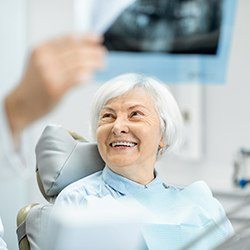 On the day of your actual surgery, we'll know exactly how many implants will need to be placed as well as the overall length of treatment. In most cases, dental implants can be placed in a day. However, the length will vary depending on how many teeth you intend to replace. After providing a local anesthetic to ensure your comfort, your oral surgeon will begin creating a small incision in your gums, then a hole inside the jaw for the implant to be placed. Once secured, they'll stitch the gum tissue closed and allow for the implant to begin adhering to the inside of the jawbone.
Dental Implant Osseointegration & Abutment Placement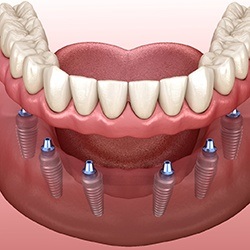 Implants are typically made from titanium, which is a biocompatible material that naturally integrates with bone tissue. The process of the implant fusing with the jawbone is known as osseointegration and is a relatively slow, yet incredibly effective process for dental implants. In most cases, you can expect the implant to take between four and six months to fully integrate. After enough time has passed, an abutment will also be placed inside of the implant. This small connector ensures the permanent restoration can be attached to the implant with confidence. Following its attachment, a few more weeks of healing will be needed.
Delivery of Dental Implant Restorations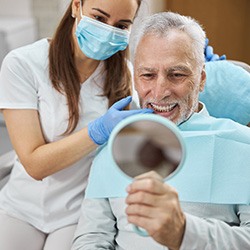 When both the implant and the abutment have had a chance to heal, the permanent restoration can be attached, completing your smile. During your initial consultation, we will have determined which restoration you'll need to fill any and all gaps in your smile, whether it's an implant-supported crown, bridge, or denture. Every restoration we provide is made from natural-looking materials, so you can expect the most lifelike smile following the end of your implant treatment.
Benefits of Dental Implants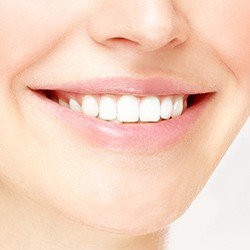 At our practice, we are committed to providing patients with the best dental care available. This includes offering state-of-the-art tooth replacement options like dental implants in Homer Glen. This solution has become incredibly popular because it's truly unlike anything else when it comes to a comprehensive restoration. But what kind of benefits can you enjoy with dental implants? Read on to find out!
Enjoy A Better Functioning Smile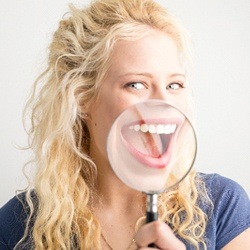 Dental implants are the closest you can get to your natural teeth, which allows you to eat, speak, and smile easily. You won't have to worry about a denture slipping and sliding around while eating. Instead, you can chew all your favorite foods with healthy and strong dental implants from your dentist in Homer Glen. Rooted in the jawbone, your new tooth replacements won't be going anywhere!
Maintain Your Jawbone Health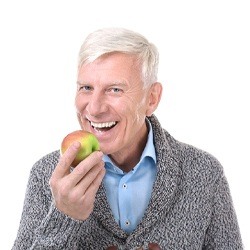 Unlike other tooth replacements that only restore the visible portion of your smile, dental implants are surgically placed in the jaw to act as artificial tooth roots. This stimulates your jawbone to prevent it from deteriorating after tooth loss. When you lose parts of your smile, your jaw loses some of the stimulation it once had to remain healthy and strong. Dental implants stimulate the jawbone to keep your facial appearance full and youthful, but this also protects your smile from additional tooth loss due to a shrinking bone.
Get Boosted Confidence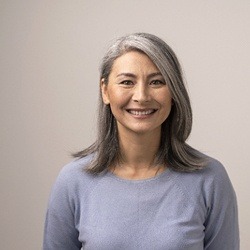 The advantages of dental implants extend far beyond physical health! This tooth replacement improves lives in many ways, one of them being boosted self-esteem. If you're used to hiding your smile in public or for photos due to lost teeth, dental implants can significantly increase your confidence to smile. After receiving this treatment, you'll be able to chew and speak with ultimate assurance, improving your quality of life and your nutrition in the process!
Keep Your Healthy Smile for A Lifetime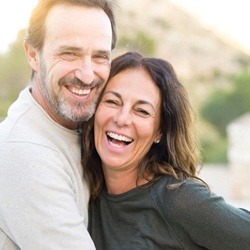 One of the most significant benefits of dental implants is their longevity. With proper maintenance like regular brushing, flossing, and visits to our office, patients can enjoy their dental implants for an entire lifetime. While restorations will eventually need replacing, dental implants are made of sturdy titanium that is built to last!
If you're ready to get started on this life-changing tooth replacement, don't hesitate to contact our office today and request an appointment!
Why Should I Choose Dental Implants?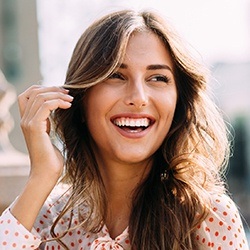 Would you believe that one of the biggest advantages of using this technique to restore your smile isn't cosmetic? When a tooth is lost, the surrounding bone and the gum tissue will begin to deteriorate with nothing to support it. By placing and restoring a permanent dental implant (or implants) to mend your row of teeth, the jawbone and gums are revitalized with purpose once again. Over time, bone density can improve and the gums are renewed. Meanwhile, your smile will look realistically beautiful and will function like an unharmed bite!
Who Dental Implants Can Help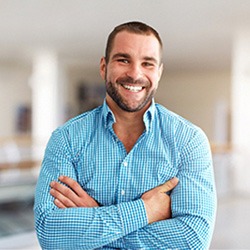 You never want to let a gap in your smile stay empty for too long. Your jawbone will start to lose its density due to the lack of stimulation, the remaining teeth will drift out of alignment, and you'll have a harder time biting and chewing certain foods. Protecting your dental health means getting a replacement for your missing teeth as soon as possible. The good news? Dental implants can help patients in all types of tooth loss situations! Although not every patient is a candidate, preliminary treatments can help you get there.
Missing One Tooth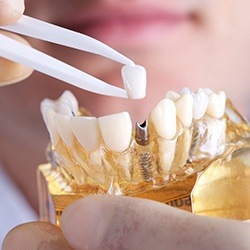 If you are replacing a single tooth with a dental implant, Dr. DeAngelo will restore it using a dental crown. This tooth-shaped cap is designed to fit over a metal connector that will attach it securely to your implant post.
Missing Multiple Teeth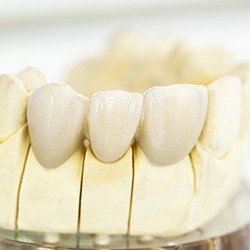 If you have multiple missing teeth in a row, he can place two of these crowns on either side of the gap in your smile and bond them to prosthetic teeth to fill in the gap, creating a strong and reliable implant bridge.
Missing All Teeth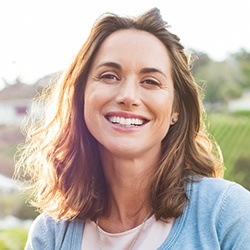 Overdentures that "SNAP" into place offers the convenience of having the ability to be cleaned at home, even after every meal, which leaves you with fresher breath. The attachments used are very secure and can be adjusted for everyone's different needs. The cleanability of the prosthetics is a significant advantage. If something gets caught beneath them, you can do-it-yourself without the need of a dental professional, and remove the offending item.
Learn More About Implant Dentures
Missing All Teeth with Low Jawbone Density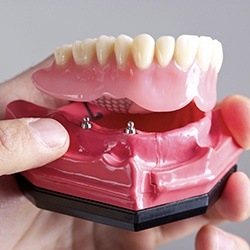 This treatment allows a patient with low jawbone density to have dental implants placed and restored with a full denture all in one day. In other words, a patient could wake up that morning with a row of missing teeth and go to bed with a complete smile. This treatment uses slightly longer dental implant posts to create maximum stability for the prosthetic, and this also makes it viable for patients who normally wouldn't be eligible for implant dentistry.
Understanding the Cost of Dental Implants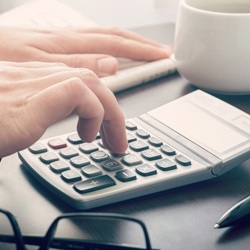 The cost of dental implants varies from patient to patient; an individual who needs to replace a single tooth will have to pay less than someone who needs full-arch replacement. Also, each stage of the treatment process (such as the implant placement surgery and restoration) comes with a separate price. When you visit our team for your consultation, we'll create a personalized estimate for the cost of your treatment. We'll also help you explore financing options. Remember that although dental implants may seem expensive, they are a truly worthwhile investment in your oral health and confidence!
Types Of Dental Implants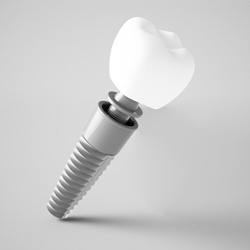 Logically speaking, replacing a single tooth with a dental implant and crown costs less than replacing an entire arch of missing teeth. Even some procedures that replace the same number of teeth, such as All-on-4 implants or a full implant-supported bridge, may come at different prices. When you visit Dr. DeAngelo for your implant consultation, he and our team will discuss your implant options with you and help you understand the pros, cons, and price of each one.
What Are the Stages of Dental Implant Treatment?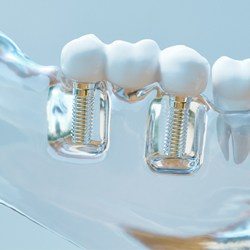 Dental implant treatment is not a single procedure. Rather, it is a multi-stage process that typically involves:
Preliminary work, such as bone grafts, extractions, or gum disease treatment
The implant placement surgery
Placing the implant abutments
Designing and placing the final restoration
Keep in mind that you only have to pay for each part of your treatment as you undergo it, and your procedures may be weeks or even months apart. Therefore, you'll have time between procedures to make room in your budget for the next step in your smile restoration journey.
How Dental Implants Can Save You Money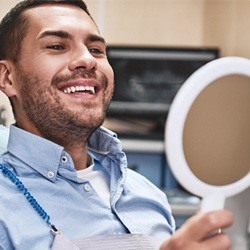 Dental implants provide unparalleled function, aesthetics, durability, and longevity — other tooth replacement options simply do not measure up. Really, dental implants are the next best thing to natural teeth! While they may cost a lot of money, the benefits they offer are truly priceless. Plus, because dental implants last for so long, they may actually be a better monetary value than other treatments, which are less expensive upfront but require more frequent replacement. For example, while dental implants might last for 30 years or longer, a traditional denture may last for just 5 – 10 years or so. The vast majority of patients who invest in dental implants have no regrets about their decision.
Does My Dental Insurance Cover Dental Implants?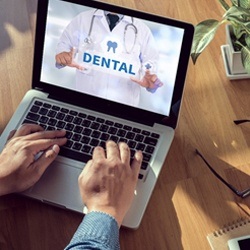 You'll have to check the details of your dental insurance policy to find out if it covers dental implants. Even if it does not cover the implants themselves, it may cover other portions of your treatment, such as preliminary work or the cost of the final restoration. If you need help to pay for your implants that go beyond insurance, our team is ready to assist you. You may be eligible for affordable financing through CareCredit. You might also be able to use FSA or HSA funds to pay for your restored smile.
Dental Implant FAQs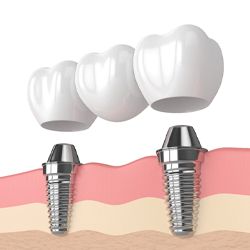 Are you ready to begin the process of repairing your smile with dental implants in Homer Glen? It's important that you know exactly what to expect, which is why Dr. DeAngelo is more than happy to answer any and all questions you might have during your initial dental implant consultation. Below, we've addressed just a few of the questions that our patients frequently bring to us, but you should always feel free to voice any others you might have.
WILL I BE ABLE TO GET MY IMPLANT RIGHT AWAY AFTER AN EXTRACTION?
You may want to use dental implants to replace a tooth that needs to be extracted. However, whether or not you can have the implant placed immediately afterward depends on the situation. If the bone and gums underneath are healthy, the placement can usually be done on the same day. However, oftentimes the extraction is needed in the first place because of an infection or severe bone loss; if that's the case, your condition will need to be treated first. We'll discuss the procedure with you beforehand so that you'll know ahead of time whether or not you'll have to wait to receive implants.
IS A BONE GRAFT NEEDED?
Once you've lost your teeth, your jaw will start to suffer from bone resorption. Essentially, the bone will start to erode and lose its density. Because implants require a good foundation of bone for support, such bone loss can increase the risk of implant failure. As such, bone grafting is often a necessary part of the dental implant procedure. That being said, it's not always necessary if your jaw is still in good shape; we'll need to take X-rays of your jaw to see how much resorption has already occurred before we decide to move forward with a bone graft.
HOW SUCCESSFUL ARE DENTAL IMPLANTS?
Dentists have been placing dental implants for decades now, and as a result, there is plenty of data showing how reliable the procedure is. Thanks to modern techniques and materials, dental implant surgery now has a 95% success rate. This is partly because the implants are made of titanium, a durable metal that is also highly biocompatible, meaning your mouth is unlikely to reject it. Of course, failure is still possible in rare circumstances. If your jaw does not heal correctly, it will not join with the implant posts, which in turn will become loose and may fall out entirely.
DOES INSURANCE COVER DENTAL IMPLANTS?
The majority of insurance providers do not cover implants, considering them a cosmetic procedure. That said, there's a good chance that your plan will help pay for some portions of the procedure. In any case, we accept all forms of dental insurance, and we're more than happy to file a claim for you so that you receive any benefits you're entitled to. If you do not have insurance or need treatment that isn't covered by your plan, we can help you break up the cost into smaller monthly payments through CareCredit.
DOES GETTING DENTAL IMPLANTS HURT?
Similar to other oral procedures, our team will completely numb your mouth with a local anesthetic before starting your surgery. This way we ensure that you're pain-free while we work on your treatment. Furthermore, the jawbone doesn't have that many nerve endings, which can help lessen discomfort. You shouldn't expect to feel pain during the surgery itself, but it's natural to experience some soreness for the next few days after your visit. Fortunately, you can easily manage this with either over-the-counter or prescribed pain relievers. Placing a cold compress on the outside of your cheek where the discomfort is can also lessen it. If you notice your discomfort is persisting or worsening after two or three days, give your dentist a call for help.
WHAT CAN CAUSE DENTAL IMPLANTS TO FAIL?
It is very rare for dental implants to fail due to the manufacturing of the materials and the strategic planning of the treatment. Still, two of the biggest culprits for failure include peri-implantitis and failed osseointegration. Peri-implantitis is a kind of periodontal disease that is a result of poor oral hygiene and can compromise the bone and gums keeping the implant in place. The other reason occurs when the implant doesn't properly integrate with the jawbone, which can especially happen in patients with low jawbone density.
There are other causes for dental implants to fail, such as tobacco use, teeth clenching/grinding, poor oral hygiene, radiation to the neck/head, certain medications, and particular health conditions (like diabetes, osteoporosis, cancer, etc.). That's why your dentist will first review your dental/medical history to determine the best approach for minimizing the risk of dental implant failure.
AM I TOO YOUNG TO GET DENTAL IMPLANTS?
The human jaw doesn't typically fully develop until young adulthood. If this procedure is performed on someone whose jaw isn't completely matured, it can interfere with their future bone development and raise the risk of complications. In many cases, dentists will not place dental implants in a person who's younger than 18 years old. Some patient's jaws don't even fully mature until they're in their mid-20s! Furthermore, men's jaws take slightly longer to develop than women's. In any case, you'll want to consult your dentist so they can determine the best time for you to undergo dental implant treatment.
WILL I HAVE TO TAKE OFF WORK FOR DENTAL IMPLANT SURGERY?
The majority of patients might only need a day or two off work to get dental implants. However, every patient is different, so your dentist will suggest the appropriate number of days depending on your specific situation. Those with jobs that are more physically demanding may require three to four days to rest. This is because strenuous exercise can end up moving blood away from the implant site, disrupting recovery. To be on the safe side, you'll likely want to undergo your procedure on a Thursday or Friday so you can use the weekend for plenty of rest.