Cosmetic Dentistry – Homer Glen, IL
Aesthetic Improvements for Longer-Lasting Smiles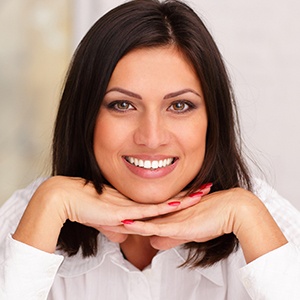 Cosmetic dentistry can transform your teeth into the beautiful smile of your dreams. A brighter, bolder, and more attractive beaming smile can make you look younger, more vibrant, and improve your self-confidence! After all, recent studies have shown that people with straight, white teeth are perceived as more intelligent and trustworthy than their peers. As a skilled cosmetic dentist in Homer Glen, Dr. Alan R. DeAngelo and his team will identify the appropriate treatment(s) you need so that you can let your smile and personality shine. If you're ready to take the next step in your journey toward aesthetic improvements, contact us today to schedule an appointment at DeAngelo Dental of Homer Glen.
WHO IS A GOOD CANDIDATE FOR COSMETIC DENTISTRY?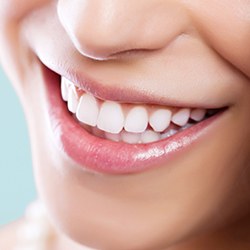 Most patients who inquire about cosmetic dentistry will be eligible to receive one or more treatments. Before you start, however, it is necessary for Dr. DeAngelo to examine your oral cavity and determine if you are healthy enough to start treatment. A few key components he will be looking for include:
Healthy gums – Periodontal disease can cause eventual tooth and bone loss if left untreated. Making sure your gums are healthy and free of disease will ensure your cosmetic procedure has long-term success.
Tooth decay – Addressing cavities before starting cosmetic treatment will ensure that no underlying issues are developing that would cause your aesthetic improvement to quickly decline or prove ineffective from the start.
As long as your oral health is in good general shape, you will be given the green light to start cosmetic treatment and be well on your way to a fully transformed, more beautiful smile.
SMILE MAKEOVERS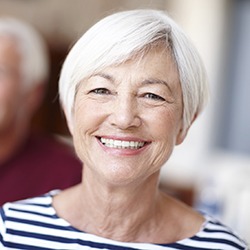 If you feel that your smile is unpleasant or unattractive on a comprehensive scale, a personalized makeover here in Homer Glen can help you regain the self-confidence you deserve. Our team will work closely with you to determine your personal needs and goals, and pinpoint the services needed to help you reach that point. We may recommend any number of cosmetic services, including ZOOM! teeth whitening, porcelain veneers, Invisalign, gum recontouring, and more. Every smile has the chance to turn heads when choosing to see Dr. DeAngelo and our skilled cosmetic team.
LEARN MORE ABOUT SMILE MAKEOVERS
FULL-MOUTH REHABILITATION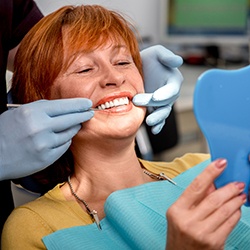 Dr. DeAngelo strongly believes that it's never too late for patients to regain a complete and reliable smile, even after suffering from advanced decay or severe tooth loss. In these cases, he may recommend a full-mouth rehabilitation. This process is similar to a smile makeover, but it focuses more on helping patients regain health and oral function. Our team may recommend dental implants, dental crowns, and bridges, orthodontics – whatever patients need to start living their lives to the fullest once more.
LEARN MORE ABOUT FULL-MOUTH REHABILITATION
PORCELAIN VENEERS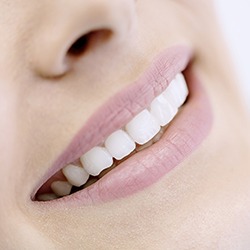 Veneers have long been one of the most popular cosmetic treatments available, and it's easy to see why: they're able to correct numerous aesthetic flaws with one simple procedure. With them, Dr. DeAngelo can:
Instantly whiten teeth
Fix chips and cracks
Close gaps
Make small or misshapen teeth appear normal
Straighten slightly misaligned teeth
Each veneer is custom-made and colored matched for every patient. You can get one to enhance a single tooth or an entire set to achieve a smile makeover. With proper care and maintenance, you can expect your veneers to last a decade or longer.
LEARN MORE ABOUT PORCELAIN VENEERS
Teeth Whitening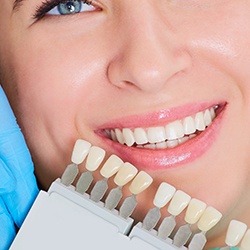 Everything from the foods and beverages we enjoy every day to aging and genetics can leave our smiles looking stained, dull, and discolored. If you're ready to make your smile shine again, then we can do it with professional teeth whitening in Homer Glen. We can use a treatment that combines a potent bleaching agent and a specially designed light to eliminate even the most stubborn stains in record time. It can make your smile up to 8 shades whiter with just one quick treatment! Alternatively, you can achieve your desired results from the comfort of your home with a take-home whitening kit.
LEARN MORE ABOUT ZOOM! TEETH WHITENING
INVISALIGN® CLEAR BRACES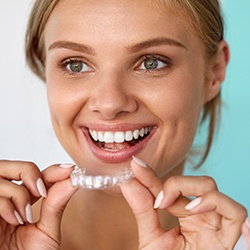 Want to get a straighter smile without dealing with the hassle or appearance of metal braces? Now you can with Invisalign. This revolutionary treatment uses nearly invisible, clear, plastic aligners to gradually straighten the teeth, giving you the ability to smile with confidence throughout treatment. Plus, you can take the trays off whenever you need to eat, drink, or brush your teeth, giving the best when it comes to convenience as well. Not to mention, Invisalign offers great versatility when it comes to treating crowded teeth, gaps between teeth, and minor bite alignment issues.
LEARN MORE ABOUT INVISALIGN® CLEAR BRACES
Request your Complimentary Smile Makeover Consultation
METAL-FREE CROWNS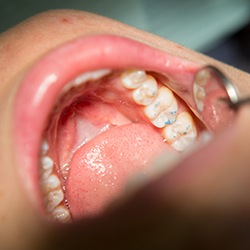 Our practice has been dedicated to using metal-free materials to repair teeth for decades, and the results speak for themselves. With metal-free, all-porcelain dental crowns, we can easily repair broken and decayed teeth in such a way that it looks like nothing bad ever happened to them. The material is just as strong as real enamel and even reflects light in the same manner. Thanks to Dr. DeAngelo's skill, he'll make your dental work look completely unnoticeable while making sure your crown helps to protect and strengthen your weakened tooth.
DIRECT BONDING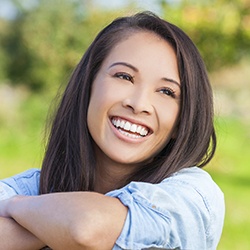 If you have small chips, cracks, gaps, or stains, then we can quickly fix them with direct bonding. Dr. DeAngelo will apply a liquid composite resin to your tooth, and layer by layer, he'll sculpt it to perfection. With this treatment, he can easily improve the shape, size, and color of any tooth. Better yet, the entire procedure usually takes less than an hour, requires no anesthetic, allows you to keep more of your natural tooth structure, and it is much more affordable than other, more invasive procedures.
Learn More About Direct Bonding
GUM RECONTOURING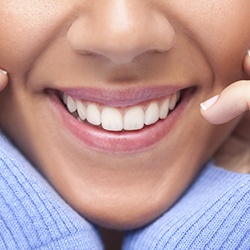 Do your teeth appear to be too short or stubby? Would you say that you have a "gummy" smile? If so, Dr. DeAngelo can make it a thing of the past thanks to laser dentistry. He has spent years training how to use the most advanced tools, and with a soft tissue laser, he'll be able to painlessly remove any excess gum tissue and expose the previously hidden dental structure. He can then shape your gum line along your teeth to give you that perfectly proportioned look.
Learn More About Gummy Smile Correction
A NOTE FROM DR. DEANGELO ON THE WINNING COMBINATION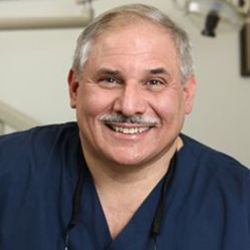 With a winning combination of technique, technology, and the finest porcelains available, I have been crafting some of the most beautiful smiles you'll ever see. It has taken many hours of continuing education, including learning more about advanced techniques such as gingival recontouring, laser sculpting, and deep bleaching. In addition, I've mastered the art of working with electric handpieces for smooth preparations, experimentation with various blends of porcelains at some of the nation's finest dental labs, and utilizing modern metal-free and quality alloy materials to get the beautiful smile you deserve. Of course, it doesn't hurt that I have a steady hand, advanced knowledge of dentition, and the ability to color match your existing teeth or create a new, whiter, brighter smile.
Nice-looking teeth are not enough for me. I have done high-quality cosmetic dentistry for years, but what was lacking was the "WOW" Factor. You know, the smile that makes you do a double take; the bright, beaming type of smile that catches your attention and the admiration of those around you. I've truly found it and my patients love it. Hugs, thank you's, handshakes, and even tears of joy have become commonplace at my office and have not only enriched the lives of my patients but my life, too. Beautiful smiles: they're contagious.
Don't take my word for it, though. Come into my office and ask to see some of our before and after photographs. I'll let my work speak for itself. You'll be happy you did.
Changing lives…one smile at a time,
- Alan R. DeAngelo, DDS.
Understanding the Cost of Cosmetic Dentistry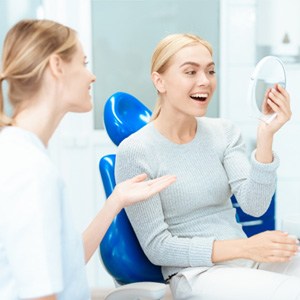 Are you interested in undergoing cosmetic dental treatment to enhance your smile? While the benefits are numerous and promising, it's also important to know what to expect from the overall cost. This can be concerning for some patients, especially since these procedures aren't typically covered by dental insurance. However, our team is more than happy to help. Not only do we provide a wide variety of treatments, but we can also offer alternative financing options to help make your procedures more manageable. Read on to learn about the cost of cosmetic dentistry in Homer Glen!
Which Cosmetic Dental Service Is Right for Me?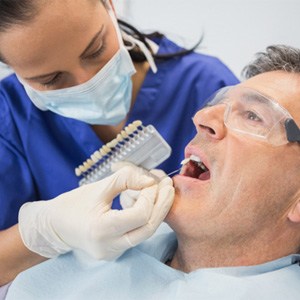 There are a variety of cosmetic dental services, each with its unique purpose and price points. Here are several options that can help improve the appearance of your smile and what to expect from them:
Teeth Whitening – This is one of the most popular and cost-effective methods for enhancing your pearly whites. By using professional-grade bleaching agents, we can brighten your teeth by several shades in just a single appointment! While the results can last several months to a couple of years, you'll eventually need touch-ups to maintain their shine.
Invisalign – This is perhaps the quickest and most discreet orthodontic treatment available. Not only will you be able to effectively straighten your smile, but most people won't even notice that you're wearing clear aligners. This option won't affect the color, shape, or size of your teeth, but the results can last the rest of your life as long as you wear your retainer.
Direct bonding – If you're struggling with minor dental flaws like chips, stains, or gaps, then we can correct them with composite resin. This procedure can be completed in just one visit, and you'll be able to show off a more appealing smile. While this option is more affordable than other cosmetic solutions, the results will only last several years depending on how well you care for them.
Veneers – These porcelain shells can be cemented to the front of any affected teeth to address multiple imperfections simultaneously. Whether you're struggling with cracks, stains, gaps, or misalignment issues, you can create your dream smile in a couple of weeks. This option does cost more than other treatments, but it offers the most comprehensive smile makeover and last 15+ years with proper care.
Cosmetic Dentistry Can Be a Worthwhile Investment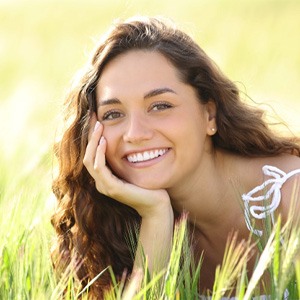 It's normal to feel like cosmetic dentistry is a major commitment. That said, these services are also an essential investment that can pay off in the long run. If you aren't happy with the way your smile looks, improving them with the right treatments can boost your confidence and social impressions. Not only will you look and feel better, but others can perceive you as more outgoing, competent, and attractive! By having a picture-perfect smile, you can be sure to enjoy better relationships, professional opportunities, and overall quality of life.
How to Make Cosmetic Dentistry Affordable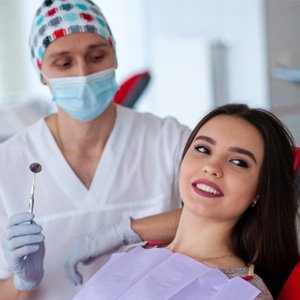 Even though cosmetic dentistry isn't usually covered by dental insurance, it doesn't mean you won't be able to achieve the dream smile you deserve. Our team is proud to offer plans through CareCredit—a third-party financier that can help break up the cost of your treatment into monthly installments. Many of their plans also come with little to no interest, meaning you can save more money in the long run. We also offer special deals to help with the cost of certain cosmetic solutions, such as a free consultation, $100 off Zoom! teeth whitening (with take-home trays), and $500 off a full case of Invisalign or $250 off on Invisalign Express.
Cosmetic Dentistry FAQs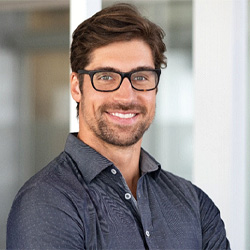 The idea of using cosmetic dentistry to create the smile you've always wanted can be an exciting one, but you may feel a little nervous about moving forward with the process if there's anything you don't understand. Don't hesitate to let us know if you have any questions; our team will give you detailed yet easy-to-understand answers to help guide you toward the best decisions for your grin. Here are some examples of common cosmetic dentistry questions that we often hear.
Is Cosmetic Dentistry Safe?
There is little to no risk associated with most types of cosmetic dentistry. Our team will carefully examine your mouth during your initial consultation to check for oral health issues that might make cosmetic treatments unviable. For example, you shouldn't have a veneer placed on a tooth with a cavity, as this will only make the problem more difficult to treat.
Generally speaking, professional cosmetic treatments are safer than over-the-counter ones. Many of the whitening products that you can buy at the store may damage your teeth and gums if you're not careful; with professional whitening, you'll have an expert looking after your smile from beginning to end.
How Long Does Cosmetic Dentistry Last?
Some cosmetic procedures last longer than others, so the answer depends on what treatment you've chosen:
Teeth whitening and direct bonding are quicker and easier than other cosmetic procedures, but they also don't last as long.
Veneers and metal-free crowns can often last 10 years or more with the right care.
Gum recontouring is usually considered permanent because removed gum tissue doesn't grow back.
The results of Invisalign treatment can last the rest of your life provided that you're diligent about wearing your retainer afterward.
You can often help the results of cosmetic dentistry last longer by practicing good oral hygiene, attending regular dental checkups, and wearing a mouthguard while playing sports. You should also be careful around foods that can stain your teeth or your restorations.
Does Cosmetic Dentistry Hurt?
We will make your comfort our top priority during your cosmetic procedure. Whitening and direct bonding are noninvasive treatments, so there's little to no discomfort associated with them. For other procedures – such as veneers that require us to reshape your tooth – we may apply a local anesthetic to keep your mouth numb. In some cases, you may experience some mild soreness for a few days after your treatment; it should fade on its own after a while.
How Can Cosmetic Dentistry Change Your Life?
There are several ways that cosmetic dentistry can have a positive impact on your life:
You may be more motivated to brush, floss, and attend your regular dental checkups to maintain the results of your treatment.
You might also start drinking less soda and other dark-colored beverages that could stain your newly refreshed smile.
Straightening your teeth with Invisalign helps evenly distribute the forces of your bite, thus putting less strain on your jaw and reducing your risk for TMJ disorder.
×
Cosmetic Consult Request