Dental Crowns & Bridges in Homer Glen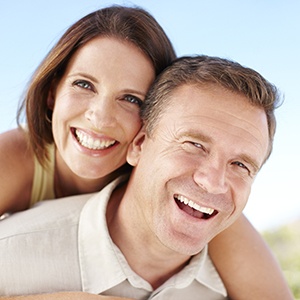 Because the appearance of your smile is important, Dr. DeAngelo may recommend white crowns to repair teeth that show when you speak or laugh. White crowns are made of porcelain or porcelain-fused-to-metal, and they can restore teeth with significant decay, cracks, or other damage to full strength and health. In some cases, back teeth require all-metal crowns because of the intense pressure they must withstand.
If you need a crown, we'll schedule two appointments for the entire procedure. Dr. DeAngelo will prepare your damaged tooth, make a dental impression for our laboratory, note your tooth color with a shade chart, and then attach a temporary crown to protect your teeth until the final restoration is ready. A dental ceramist will create your custom crown according to the precise impression we provide. Once your crown is ready, you'll visit DeAngelo Dental of Homer Glen again, and Dr. DeAngelo will permanently attach the restoration. Before you leave your second appointment, Dr. DeAngelo will assess the way that your top and bottom teeth come together. This is also known as your dental occlusion. If necessary, Dr. DeAngelo will make adjustments to your crown to ensure a proper fit. Expect your new crown to keep your tooth healthy and strong for years to come! And if you received a white crown, only you, Dr. DeAngelo, and our team will know that you have undergone dental work.
What Is A Fixed Bridge?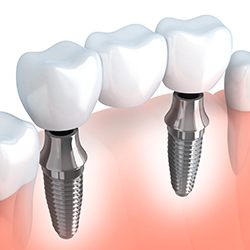 A fixed bridge is a set of prosthetic teeth that is custom-made to replace one to three missing teeth in a row. Dr. DeAngelo works carefully to ensure that a bridge is the best option for a patient and takes diligent notes about the appearance of the existing teeth. This way, a bridge can be created to blend perfectly with a person's smile. Crown and bridge treatment is a good alternative for patients who do not want or qualify for dental implant placement.
This type of restoration maintains its place in your smile with the help of dental crowns. Two crowns, one on each side of the missing teeth, will anchor the prosthetic firmly in place, allowing a patient to enjoy a fully functioning bite. This crown and bridge system has helped thousands of patients renew their outlook on life as they enjoy their favorite foods and a full smile once more! Call us today to schedule a crown and bridge appointment with Dr. DeAngelo.
Dr. DeAngelo is ready to serve patients from Homer Glen, Orland Park, Lockport, Lemont, and many other nearby Illinois towns. DeAngelo Dental of Homer Glen is proud to offer an array of restorative dentistry services to help our patients. We strive to help those in our care smile proudly!