Dental Implant Cost – Homer Glen, IL
A Worthwhile Investment for Your Smile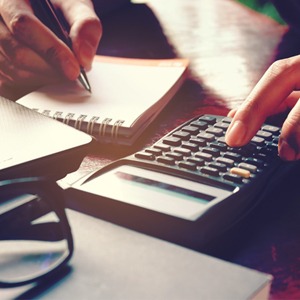 Dental implants are a remarkable tooth replacement treatment that has already helped countless individuals to regain full dental function. Unfortunately, many people hesitate to commit to dental implants because they are concerned about cost. While it is true that this treatment comes with a significant price tag, it is worth the investment. And, as you'll discover as you read this page, dental implants in Homer Glen may be easier to fit into your budget than you think.
Types of Dental Implants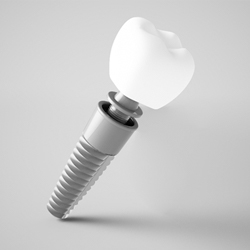 The cost of dental implants in Homer Glen varies greatly from patient to patient, partially because there are several different types of dental implant treatment. Logically, replacing a single tooth with a dental implant and crown costs less than replacing an entire arch of missing teeth. Even some procedures that replace the same number of teeth, such as All-on-4 implants or a full implant-supported bridge, may come with different prices. When you visit Dr. DeAngelo for your implant consultation, he and our team will discuss your implant options with you and help you understand the pros, cons, and price of each one.
What Are the Stages of Dental Implant Treatment?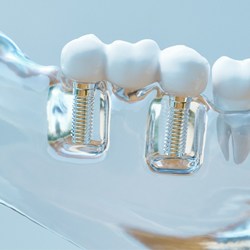 Dental implant treatment is not a single procedure. Rather, it is a multi-stage process that typically involves:
Preliminary work, such as bone grafts, extractions, or gum disease treatment
The implant placement surgery
Placing the implant abutments
Designing and placing the final restoration
Keep in mind that you only have to pay for each part of your treatment as you undergo it, and your procedures may be weeks or even months apart. Therefore, you'll have time between procedures to make room in your budget for the next step in your smile restoration journey.
Are Dental Implants Worth the Investment?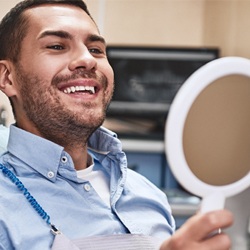 Dental implants provide unparalleled function, aesthetics, durability, and longevity — other tooth replacement options simply do not measure up. Really, dental implants are the next best thing to natural teeth! While they may cost a lot of money, the benefits they offer are truly priceless. Plus, because dental implants last for so long, they may actually be a better monetary value than other treatments, which are less expensive upfront but require more frequent replacement. For example, while dental implants might last for 30 years or longer, a traditional denture may last for just 5 – 10 years or so. The vast majority of patients who invest in dental implants have no regrets about their decision.
Does My Dental Insurance Cover Dental Implants?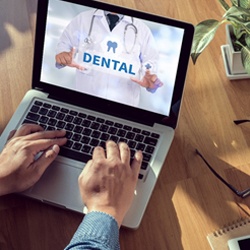 You'll have to check the details of your dental insurance policy to find out if it covers dental implants. Even if it does not cover the implants themselves, it may cover other portions of your treatment, such as preliminary work or the cost of the final restoration. If you need help to pay for your implants that goes beyond insurance, our team is ready to assist you. You may be eligible for affordable financing through CareCredit. You might also be able to use FSA or HSA funds to pay for your restored smile.