How Dental Implants Work – Homer Glen, IL
Stay Informed On Your Tooth Replacement Process
Ahead of your tooth replacement via dental implants, whether you're replacing single, multiple, or all the teeth in your smile, you'll need to understand the process in better detail. Dr. DeAngelo and his team will gladly explain each phase of treatment at your initial consultation. It's true that due to the high level of customization dental implants provide, your treatment will likely differ from other patients. Regardless, we encourage you to give our office a call so we can help you get started!
Initial Dental Implant Consultation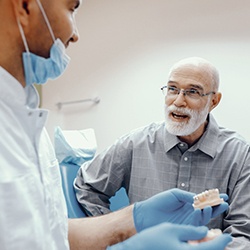 At your initial visit, it's important to confirm if you are first eligible to receive dental implants. Without healthy gums and enough supportive bone tissue, there's no way to know for sure if the dental implants will be able to stay in place as intended. That's why our initial examination is incredibly comprehensive, complete with panoramic digital X-rays designed to make viewing your underlying bone tissue quick and easy. While more patients are eligible for dental implants than ever before, these exams are necessary to make your care predictable.
Dental Implant Surgery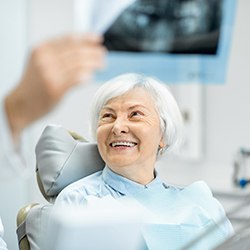 On the day of your actual surgery, we'll know exactly how many implants will need to be placed as well as the overall length of treatment. In most cases, dental implants can be placed in a day. However, the length will vary depending on how many teeth you intend to replace. After providing local anesthetic to ensure your comfort, we'll begin creating a small incision in your gums, then a hole inside the jaw for the implant to be placed. Once secured, we can stitch the gum tissue closed and allow for the implant to begin adhering to the inside of the jawbone.
Dental Implant Osseointegration & Abutment Placement
Implants are typically made from titanium, which is a biocompatible material that naturally integrates with bone tissue. The process of the implant fusing with the jawbone is known as osseointegration and is a relatively slow, yet incredibly effective process for dental implants. In most cases, you can expect the implant to take between four and six months to fully integrate. After enough time has passed, an abutment will also be placed inside of the implant. This small connector ensures the permanent restoration can be attached to the implant with confidence. Following it's attachment, a few more weeks of healing will be needed.
Placement of Dental Restoration
When both the implant and the abutment have had a chance to heal, the permanent restoration can be attached, completing your smile. During your initial consultation, we will have determined which restoration you'll need to fill any and all gaps in your smile, whether it's an implant-retained crown, bridge, or denture. Every restoration we provide is made from natural-looking materials, so you can expect the most lifelike smile following the end of your implant treatment.