January 15, 2018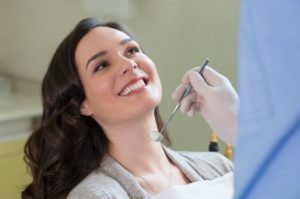 You're busy. You have work and family responsibilities, and of course you have to pencil in some time to relax. Within all the chaos that is known as life, you might push some things aside. Some people even decide to save a few hours during the year by ignoring the recommendation to go to their dentist in Homer Glen every six months for a cleaning and checkup. Don't fall into that dangerous trap! Regularly seeing a professional for dental care is extremely important. Here's why.
You're Not Perfect
You probably brush twice a day, and you might even be one of those special and amazing people who never forgets to floss — but that isn't enough to maintain a clean mouth. Despite your best efforts, you might be missing a spot or two when you're going through your oral hygiene routine. If the plaque don't brush away is left on your teeth for long enough, it turns into tartar and leads to cavities.
A thorough cleaning is a staple of routine dental visits, wherein a professional will remove all the icky stuff from the nooks and crannies that you might have missed. Plus, while a regular toothbrush is incapable of removing tartar, the folks at your dentist's office have all the tools necessary to whisk it away.
You Want to Catch Problems Early On
The earlier you catch oral health problems, the easier they will be to take care of. For example, if your dentist identifies cavities while they're still small, you might just need a tiny filling. If you wait for too long, you might need a crown or even an extraction.
Your dentist will combine a visual examination with diagnostic tools, such as x-rays, to get a comprehensive understanding of your oral health. Some issues other than tooth decay that might be revealed during your appointment include:
Receding gums
Symptoms of gum disease
TMJ disorder
Signs of oral cancer
Infections
Signs that point to systemic health problems, such as diabetes or vitamin deficiencies
You'll Look and Feel Better
Everyone wants to love what they see when they look in the mirror, and there is nothing attractive about missing or decaying teeth or bad breath. Your dentist can prevent and correct such issues, boosting your confidence and making you feel great about your smile
There's another aesthetic benefit to regular dental visits — if you keep your teeth healthy, you're more likely to be a candidate for procedures that will drastically improve the way your pearly whites look. Whether you want to undergo professional whitening or get porcelain veneers, your cosmetic dentist in Homer Glen will want to make sure your chompers are in good shape before you get your smile makeover.
When was the last time you visited your dentist? If the answer is anything longer than six months ago, we encourage you to schedule an appointment soon.
About the Dentist
Dr. Alan De Angelo is passionate about providing the best care possible for his patients. With an expert touch and state of the art technology, he seeks to help everyone who comes into his office achieve a healthy, beautiful smile. If it's time for your next routine dental visit, please contact us at 708-301-3111.
Comments Off

on Are Regular Visits to the Dentist Really That Important?
No Comments
No comments yet.
RSS feed for comments on this post.
Sorry, the comment form is closed at this time.