Invisalign for Crowded Teeth – Homer Glen, IL
Creating Space for a Beautiful Smile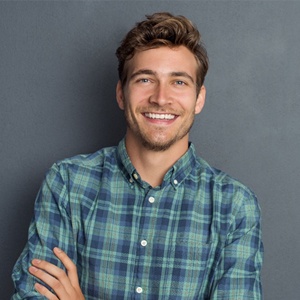 Invisalign in Homer Glen is one of the most versatile methods of orthodontic treatment available. Dr. Alan DeAngelo can help patients with all types of dental problems achieve straighter, healthier smiles with the use of these clear aligners. Even overcrowded teeth are no match for the possibilities offered by Invisalign. You can say goodbye to the days of inadequate and ineffective brushing and flossing, and instead, say hello to better oral health and an improved aesthetic. To get your teeth moving in the right direction, call our office to schedule a consultation at DeAngelo Dental of Homer Glen today!
What Can Happen If Crowded Teeth Are Left Untreated?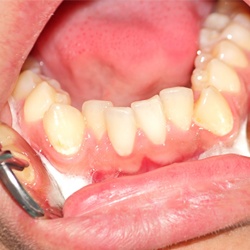 Have you ever heard of gum disease, tooth decay, and cavities? Of course, you have! These unfortunate dental problems are an all-too-familiar occurrence seen and treated by most dentists. When teeth are sitting too close together or are misaligned because of teeth erupting into inadequate spaces, it's nearly impossible to keep them clean and healthy.
Over time, crowded teeth can fall victim to the above-mentioned dental problems. When this happens, your mouth and overall health can suffer from even more damaging results, such as bone and tooth loss, heart disease, or even negative cognitive brain function.
How Can Invisalign Help Treat Crowded Teeth?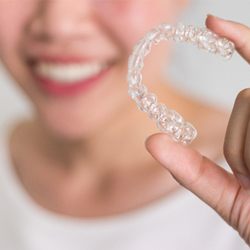 By choosing to receive treatment with Invisalign, your cosmetic dentist in Homer Glen will begin by examining your smile with the help of X-rays. After taking impressions of your teeth, dental lab technicians will be crafting your custom-made aligners.
Once you receive your trays and are fitted with your first set, you will need to wear them for 20-22 hours each day in order to experience successful treatment. After one to two weeks of wear, depending on Dr. DeAngelo's instructions, you will swap out your aligners for the next set in the series. This change will cause your teeth to gently shift in the right direction, putting you one step closer to a beautifully aligned smile.
It's imperative that you remove your aligners only while eating, drinking, or cleaning your trays. If you have a special function you're attending, you can remove them for a brief time, but make sure to keep your aligners in a protective case to prevent damage.
When finished with treatment, which can take anywhere from 6-18 months, you will be expected to wear a retainer to keep your teeth in place.