February 19, 2018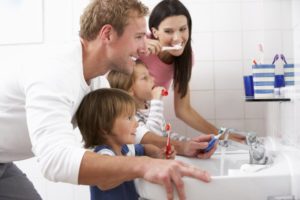 If you're on the market for a new dentist, you should consider more than just your own needs. Being the head of household means more than paying bills in most cases—it's about caring for your family in the best ways possible—including their oral health.
Finding a family dentist that can serve your loved one's needs should be of the top priorities. Plus, it'll simply make your life easier! Learn more about why you should choose a family dentist rather than different dentists for each of your family members.
Why Should You Find a Family Dentist?
When you think of scheduling doctor and dental appointments for your family, you want to make the process as simple as possible. You have to make sure that the visits fit within your busy schedule—and we know how hard that can be. You have a job to maintain, recreation activities to take your children to, and still have a life to live outside of the daily chaos.
Choosing to visit a family dentist guarantees that you will be able to find dental care that your whole family can receive under one roof. When you schedule dental appointments for you and your loved ones, block out a few hours and have everyone come at the same time! Your little one's can have their teeth cleaned while your teen also has their custom athletic mouthguard made. Everything becomes simpler for you when you only have to visit your local practice once every 6 months.
Find a Family Dentist That You Love
There are many people that may not think that being choosy when picking their ideal dentist is important. This couldn't be further than the truth. It's critical that you and your family enjoy visiting your dental practice or it becomes just that much easier to skip out on your necessary dental care.
Any great dentist will tell you that preventing dental concerns is much better for your smile (and pockets) rather than working to repair it—and this goes for every member of your family. If you can, you should always try to save your loved one's smiles from having extensive dental work down the road.
Choosing the perfect dentist for your whole family isn't always the easiest task, but it's not completely impossible if you take a little extra time to see who conforms to your schedule and fits your family's needs.
---
Meet Your Dentist
Dr. Alan R. DeAngelo is not just any expert in the dental field, he's someone who enjoys meeting the needs of every one of his patients with personalized care. Our office provides high-quality care while remaining personable and friendly, so even the youngest members of your family have a children's dentist that they know they can trust. Call us today to schedule you and your loved one's very first dental visit. We would love to have you!
Comments Off

on Discover Why You Need to Choose a Family Dentist
No Comments
No comments yet.
RSS feed for comments on this post.
Sorry, the comment form is closed at this time.