April 18, 2018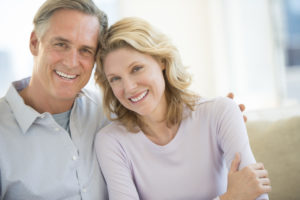 After any amount of tooth loss, finding a proper replacement is absolutely crucial. Missing teeth cause a host of side effects, from lower self-confidence to difficulty maintaining a balanced, nutritious diet. There are a few options in tooth replacement, but your dentist in Homer Glen knows nothing comes as close to excellent as dental implants. They are a truly comprehensive solution for tooth loss, which gives you back the missing root structure as well as the visible crown that sits on top. Keep reading to learn more about the multiple advantages of dental implants — and whether or not you may be a candidate for this wonderful treatment.
Count the Benefits of Dental Implants
Dental implants promote better oral health by preventing the degeneration of the jaw bone, which can lead to even further tooth loss later on.

The replacement tooth/teeth are supported on a titanium post that rests beneath the gum line, rather than being fixed to your natural teeth or resting on top of the gums. This provides unmatched stability.

Dental implants look just like your natural teeth.

It is easy to brush and floss an implant-retained prosthetic.

Dental implants have a high success rate, with over 95% of procedures being reported as successful.

Dental implants can correct prior misalignments with the bite, helping you enjoy the benefits of properly-aligned teeth while avoiding braces, too.

An implant-retained prosthetic is very sturdy, which allows you to continue eating all the crunchy and nutritious foods that help you stay healthy and feeling great.

You don't have to worry about a lisp or whistle developing in speech thanks to the stability of dental implants.

While they may come with a higher price tag upfront compared to other tooth replacement options, dental implants can end up saving you money over time because they do not need to be replaced or refitted like a traditional denture.

When cared for properly, dental implants can last a lifetime.
Are You a Good Candidate for Dental Implants?
One added benefit of dental implants is that most healthy adults who have recently experienced tooth loss are good candidates for this tooth replacement option. You should be healthy enough to undergo and heal from the surgical procedure — and if you have been missing teeth for a while, you may need to have a bone graft procedure performed first. The only way to know for sure whether or not you can benefit from dental implants in Homer Glen is to get in touch with your implant dentist for a consultation! If you are indeed eligible, we look forward to getting started with Mother Nature's preferred tooth replacement right away.
Meet the Dentist
Dr. Alan R. DeAngelo is a general dentist offering comprehensive dental care, including dental implant restorations, from his Homer Glen practice. To learn more about implant dentistry or to schedule a consultation to find out whether or not you are fit for this option, we invite you to get in touch by calling 708-301-3111 today.
Comments Off

on Dentist in Homer Glen on the Perks of Dental Implants
No Comments
No comments yet.
RSS feed for comments on this post.
Sorry, the comment form is closed at this time.