May 5, 2018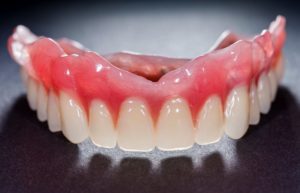 Living without teeth can be incredibly tough. You can't eat the same foods you used to and your self-esteem can take a blow when you're afraid to smile. That's why your dentist wanted to let patients know that there is a quick and effective solution for tooth loss available: full and partial dentures in Homer Glen!
These prosthetic devices both offer the same solution for tooth loss, but in slightly different ways. To make it easy to understand, your dentist is comparing both of them before your next visit.
Full Dentures vs. Partial Dentures
Full dentures are intended for patients who have lost many teeth, particularly an entire arch, or row, of teeth. This type of denture is more typically used for older patients where it's more common to have several missing teeth in a row. If you're replacing all teeth in either the upper jaw, the lower jaw, or both, this will likely be the denture your dentist recommends.
Partial dentures in Homer Glen are plates with one or more prosthetic teeth attached to it and intended to only replace a handful of teeth at a time. If you haven't lost all the teeth in a single arch yet but still want to get dentures, then this prosthetic will be the best option.
What is the Process for Getting Dentures?
After giving the dentist any relevant health information, such as medications you're taking or other important medical and/or oral health information, you'll begin the fitting process. This starts with the dentist taking impressions of your mouth. If any extractions are needed to make room for the dentures, they'll be performed during this appointment.
Regardless of the denture you choose, both will use a gum-colored, acrylic base fitted with ceramic, prosthetic teeth. Full dentures are held in place with adhesive cream and through natural suction, while partial dentures are held with metal clasps.
While your dentures can last for 5 to 7 years with regular care, they'll need to be relined and replaced eventually. To make them last as long as possible, consider the following tips for denture care.
How to Care for Dentures
Brush and Rinse your Dentures Daily – To dislodge food, remove plaque, and prevent staining, brush your dentures with a soft-bristled brush. Avoid using toothpaste which is far too abrasive to clean dentures safely.
Use a Denture Cleanser – Ultrasonic cleaners use water and soundwaves to break up food and plaque more easily. You can also use a mild dishwashing liquid to keep them clean.
Care for them When Not in Use – Keep dentures in cold water or a denture cleanser solution to keep them moist. This will prevent them from changing shape.
Clean Your Mouth as Well – Your gums, tongue, and palate all require daily cleaning before wearing your denture. If you have a partial denture, remove it before brushing.
Visit Your Dentist Every Six Months – He'll check that it still fits properly and offer relinings and replacements when needed. If your denture is damaged, don't attempt to fix it yourself. Instead, visit your dentist for repairs.
Getting dentures in Homer Glen is easy when you understand the differences. Schedule an appointment with your dentist to get started today!
About the Author
Dr. Alan R. DeAngelo earned his Doctor of Dental Surgery degree from the University of Illinois College of Dentistry. He uses the iTero Digital Impressions system when creating dentures and has committed to post-graduate studies in esthetic dentistry and prosthodontics. To learn more, contact him through his website.
Comments Off

on Your Dentist Compares the Different Kinds of Dentures in Home Glen
No Comments
No comments yet.
RSS feed for comments on this post.
Sorry, the comment form is closed at this time.