July 24, 2018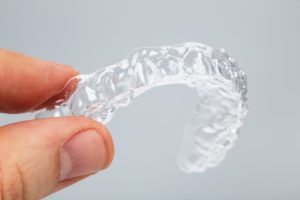 The path to straighter teeth doesn't have to be filled with embarrassing yearbook photos, dramatic changes in diet, or hours spent adjusting your oral care routine. Invisalign in Homer Glen makes it easy to maintain your appearance, diet, and oral care all at the same time! However, that doesn't mean you should go into treatment blind.
While Invisalign generally takes less time to complete, there's a certain level of commitment you'll need to maintain the benefits compared to traditional orthodontics. Here's what your dentist recommends.
Tip #1: Always Care for Your Aligners
In order to maintain their transparent appearance, it's important that you take the time to rinse, brush, and sanitize your aligners every day. Dental plaque can easily cause a yellow tint to appear on them over time, as well as food debris which can interfere with your alignment.
Always rinse your aligners when you remove them, as saliva creates a breeding ground for bacteria and makes them smell bad. A good time to do this is when you go to brush in the morning and before bed. While brushing, let the aligners soak in a container of denture cleaner or Invisalign's own brand of cleaning crystals. This will keep them sanitized and make removing food debris easier. You can also use anti-bacterial soap, just make sure to avoid using soaps that are colored or scented.
After they've soaked, use a dedicated, soft-bristled toothbrush to remove food. Avoid brushing too hard as this can scratch the aligner, making it easier for food to get trapped.
Tip #2: The Foods to Eat During Treatment
Since your aligners are removable, you don't have to make any changes in your diet to wear them. However, there are certain habits you'll want to maintain while eating meals. For example, you should always keep them in their dedicated case while eating. Don't place them in a napkin as this is how they often get lost or thrown away by accident. You also don't want to leave them exposed to open air, which can make them collect bacteria.
To prevent stains, cracks, or other damage to your aligners, never eat, drink, or chew gum while in use. The only exception to this rule is plain water.
Tip #3: Caring for Aligners on the Go
If you plan on traveling for an extended period, always keep the next pair in your series available. This way, if you lose or damage your current pair, simply move on to the next one. Make sure to always keep them in your personal bag and not inside checked luggage in the event it gets misplaced. Since brushing isn't as convenient on the go, make the effort to rinse them after meals, which is better than not cleaning them at all.
Orthodontic treatment doesn't have to be difficult when you choose Invisalign. Schedule a consultation with your cosmetic dentist in Homer Glen to see if it's right for you!
About the Author
Dr. Alan R. DeAngelo earned his Doctor of Dental Surgery degree from the University of Illinois College of Dentistry. He's also certified to provide Invisalign in Homer Glen and uses the iTero Digital Impression system to create the most effective treatment plan possible. To learn more about his practice, contact him through his website.
Comments Off

on 3 Tips to Know When Starting Invisalign in Homer Glen
No Comments
No comments yet.
RSS feed for comments on this post.
Sorry, the comment form is closed at this time.