August 19, 2018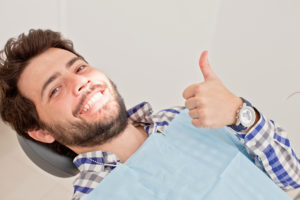 It's 2 am on Tuesday and you wake up with a pounding toothache — what next? For this or any other urgent situation (like a broken or knocked out tooth), a trip to the emergency dentist in Homer Glen should certainly be in order. But before you can make it into the office, there are some things you can do in the meantime that will help to get you out of pain and increase the chances of successful treatment. Keep reading for 5 tips on what to do after a dental emergency. Take heed and you'll be out of pain and on with your life before you know it!
#1: Rinse Your Mouth
After you injure a tooth or restoration, small shards of what has broken may be floating around in your mouth. This can put you at risk of slicing open your cheeks or tongue — or, worse, swallowing them. To keep more serious injuries from happening, rinse your mouth out with warm water soon after the injury occurs. Adding salt to the warm water can also provide a soothing and antiseptic effect for a toothache.
#2: Collect the Missing Pieces
If you have broken a tooth or fillings, you should collect and store the larger pieces for possible reattachment. In the case of a completely knocked out tooth, rinse it off and try to insert it back into its socket. If you can reach your dentist's office within one hour, reattachment may be possible. If not, a dental implant can take the place of the missing tooth structure.
#3: Stop the Bleeding
You are likely to experience some amount of bleeding after a dental emergency occurs. You should first try to stop or slow the flow of blood by applying firm, consistent pressure with a clean gauze or cloth. If heavy bleeding persists for more than 10 minutes, however, head straight to the ER for urgent medical attention.
#4: Use an Ice Pack
Swelling and inflammation are your body's reaction to an injury. To reduce this side effect after a dental injury, apply an ice pack to the affected cheek. Wrap a bag of ice (or peas, vegetables, or whatever you have on hand) in a cloth and place it onto the area in 10-minute intervals — 10 minutes on, 10 minutes off.
#5: Call Your Dentist
Once you have the situation more or less under control, do not wait any longer to place a call to your emergency dentist's office. Getting the attention you need promptly enough is key to getting out of pain and on with your life — so don't hesitate to call your dentist if something is bleeding, has broken, or is otherwise causing you pain.
Meet the Dentist
Dr. Alan R. DeAngelo is a general dentist who is always on hand to offer emergency dental care for patients in need. If you or a loved one are experiencing a broken tooth, a toothache, or anything else that strikes you as out of the norm, don't wait to get in touch with his office by calling 708-301-3111!
Comments Off

on Emergency Dentist with 5 Tips on What to Do Next
No Comments
No comments yet.
RSS feed for comments on this post.
Sorry, the comment form is closed at this time.