September 6, 2018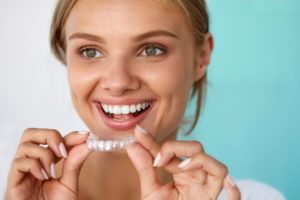 There's nothing worse than being forced to make dramatic changes in the habits you've made for years, but sometimes it's necessary. In the case of traditional orthodontics, it's extremely inconvenient to change your brushing and flossing habits to accommodate metal hardware. In many cases, people choose not to even bother and suffer the consequences as a result.
With Invisalign in Homer Glen, you don't have to make those dramatic changes. Instead, just follow these three steps for the smoothest care possible.
Step #1: Practice Routine Oral Care
Start by purchasing either Invisalign's unique blend of cleaning crystals or a denture cleanser. Both of these cleaning solutions are designed to sanitize dental devices and loosen food debris that may still be attached to your aligners, making the act of cleaning them easier.
Aligners need to be cleaned before you wear them, so a great time to practice this is during your oral care routine. When you begin your routine in the morning, start by rinsing your aligners and placing them in cool water with the cleaning agent of your choice. Once they've had about 15 minutes to sanitize, remove them from the liquid and use a toothbrush to scrub off plaque and food debris still attached.
DO NOT use hot water to soak clear aligners. Doing this will almost guarantee that they warp, preventing them from properly shifting teeth. Furthermore, do not use scented or colored soaps to clean aligners as they can easily stain them or leave an unpleasant taste in the process.
Step #2: Keep Them Safe Throughout the Day
When you're eating meals, always keep your aligners in their protective case. It's a common issue for people to accidentally throw away their aligners with their trash or leave them behind when they're not in their case. You also don't want to leave them exposed to open air. Doing this will only allow them to dry out and produce a foul odor. This is another reason why rinsing them regularly is so important.
When traveling, make sure to keep a spare pair of aligners on you in case your current aligners become damaged or get lost in transit. The last thing you want to do is cause an interruption in your treatment when you're away from your entire aligner series.
Step #3: Contact Your Dentist If Problems Arise
In the event that your aligners are lost or damaged in any way, it's imperative that you contact your dentist to let them know. They'll work with you to make sure you stay on track with your plan. This may involve moving on to the next pair, going back to a previous one, or replacing your current pair entirely. Since aligners are classified as a prescription item, only the dentist can order replacements.
With these tips in mind, you'll be set to continue treatment without worry! Schedule an appointment with a cosmetic dentist in Homer Glen today to learn more tips!
About the Author
Dr. Alan R. DeAngelo earned his DDS degree from the University of Illinois College of Dentistry. To this day, he attends many continuing education courses on esthetic dentistry, is Invisalign Certified and utilizes the iTero Digital Impression device to create the best fitting aligners possible for patients. To learn more about his practice, you can contact him through his website.
Comments Off

on The Three Steps to Care for Aligners from Invisalign in Homer Glen
No Comments
No comments yet.
RSS feed for comments on this post.
Sorry, the comment form is closed at this time.