October 9, 2018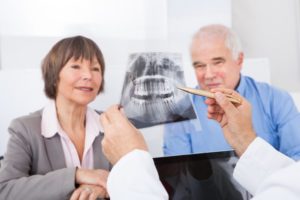 Has missing teeth made it far more difficult for you to enjoy your favorite foods? Are you afraid of smiling because you feel self-conscious, even around your friends and family? Does the thought of denture adhesive coming into contact with your mouth make you squirm? If you answered yes to any of these questions, it's time for you to consider dental implants in Homer Glen.
Unlike dentures, dental implants address your tooth loss at the source. Keep reading to learn more about the benefits!
How Dental Implants Fully Replace Teeth
Dental implants are designed to replace the entire tooth structure, not just the visible crown that makes up your smile. By replacing the root, the section that's attached to your jawbone, you gain the most natural level of tooth replacement available in dentistry to date. For thousands of years, people have been trying to replace teeth through primitive implant methods, but failed again and again due to the body constantly rejecting them.
After finally determining that titanium is biocompatible with the human body, doctors could confidently replace teeth without worry of rejection. As long as you have enough bone for the implant to adhere to and your gums are healthy, dental implants are an ideal solution to tooth loss.
The Benefits of Dental Implants
The fact is that many people don't really understand how effective dental implants are at mimicking natural teeth. Not only do they use porcelain, which looks and reflects light just like natural enamel, but implants feel, function and are cared for just like normal teeth. That means no special maintenance is needed to make them last for decades at a time.
Speaking of making them last, dental implants are also considered the most durable and long-lasting tooth replacement option. With proper at-home care, they can last for as long as 25 years to a lifetime, proving them to be a worthwhile investment. Even after a 10-year period, clinical studies have shown implants to have a 97 percent success rate.
When it comes to eating your favorite foods, even tough foods like steak, apples, nuts and corn on the cob, dental implants will make enjoying them easy and straightforward. There's no need for any adhesives or metal hooking systems to make them stay in place.
Implant-Retained Dentures Offer Better Value
If you're trying to replace your denture but want a more reliable fit, implant-retained dentures are a great solution. By using four to six dental implants in tandem with customized dentures in Homer Glen, dentists can replace an entire arch of teeth at the same time. With All-On-4 implant dentures, you can even get implants and dentures placed in a single day!
Don't wait to learn how your treatment for dental implants begins. Schedule a free consultation today!
About the Author
Dr. Alan R. DeAngelo earned his DDS degree from the University of Illinois College of Dentistry. Since then, he's continued his education on a wide variety of topics, including implant dentistry, prosthodontics, and many other relevant subjects. To learn more about his practice or about the dental implant process, you can contact him through his website.
Comments Off

on Need Replacement Teeth? Learn About Dental Implants in Homer Glen!
No Comments
No comments yet.
RSS feed for comments on this post.
Sorry, the comment form is closed at this time.