December 6, 2018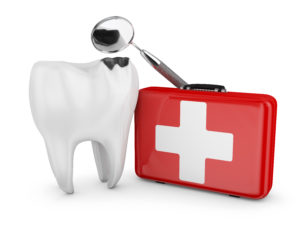 The holidays are one of the most exciting times of the year. Eating foods you don't see throughout the year, opening gifts, seeing extended family members and complex decorations around the neighborhood; it's hard to find a holiday more eventful. With that said, the last thing you want is for a dental emergency to interrupt your time with family or force you to dip into funds that were being saved for gifts. By knowing these preventive tips from an emergency dentist in Homer Glen, you certainly won't have to.
Commit to Daily Oral Hygiene
When you're comfy underneath the covers, it can be easy to put off your oral care routine. Now imagine this occurs every single night and you only decide to brush in the morning. While you may not think that skipping one or two brushings will matter, plaque adds up quickly on the teeth and gums. After a few days of skipping your routine, you just might start noticing increased tooth sensitivity that wasn't present before. Combine this with holiday foods that are typically filled with sugar and next thing you know you're waking up with a decay-induced toothache. If there is any time of the year that oral care carries additional importance, it's now (other than Halloween of course.)
Mind Your Sweets
When you think about the holidays, it's likely you start to think about the meals that accompany them. While a holiday ham or turkey isn't exactly terrible for teeth, there are many foods you should try to watch out for regardless. Chocolate-covered popcorn, candy canes, peppermint bark and toffee can all crack your tooth if you don't eat them carefully. To reduce your risk of an emergency, perhaps consider going for a softer dessert.
Don't Use Your Teeth as a Tool
When you're wrapping gifts at the last-possible minute (Christmas morning anyone?) you may feel like using your teeth to cut pieces of tape is safe. This couldn't be further from the truth. Even if it doesn't cause your teeth to crack on contact, it's still going to wear away tooth enamel. Each time you use your teeth on something inedible, it increases the risk of a dental emergency later. Instead of rushing your holiday activities, always make sure you have the tools for the job.
Visit the Dentist Before the Year is Up!
Outside of at-home oral hygiene, visiting the dentist every six months for cleanings and exams is the best way to prevent dental emergencies. In the event they notice early signs of tooth decay, they can inform you ahead of time and prescribe the necessary treatment. If they catch enamel erosion caused by chronic teeth grinding, they can provide you a custom-made nightguard so you don't wake up to cracked teeth.
With the end of the year around the corner, now is the perfect time to get your exam and cleaning completed. Schedule an appointment with a dentist in Homer Glen today!
Dr. Alan R. DeAngelo earned his DDS degree from the University of Illinois College of Dentistry. He's always educating his patients on the best ways to stay proactive during the holiday season, whether it's on practicing oral care or preventing dental emergencies. To learn more about his practice or get a dental emergency treated, you can contact him through his website.
Comments Off

on Emergency Dentist in Homer Glen Helps You Avoid Holiday Issues
No Comments
No comments yet.
RSS feed for comments on this post.
Sorry, the comment form is closed at this time.