January 14, 2019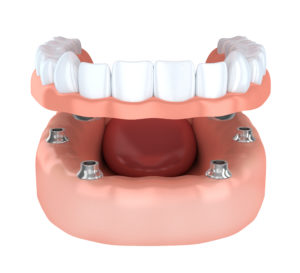 If you've lost all or most of your teeth, your dentist is likely to recommend that you consider using  dental implants in Homer Glen to replace them. Implants provide outstanding stability, a strong bite force, a natural appearance, and a host of other advantages. Implant-supported dentures come in two basic varieties: permanently fixed prosthetics and removable overdentures. Let's take a moment to compare
these two options.
Permanently Fixed Implant-Supported Dentures
As their name implies, permanently fixed implant-supported dentures are securely attached to the implants. In fact, they're screwed on in a manner that makes it impossible for the wearer to remove them.
One popular variety of fixed denture is part of the All-on-4 procedure, which employs just four dental implants to replace an entire arch of missing teeth. This procedure is sometimes called the Teeth in a Day technique because it allows patients can receive a provisional (temporary) denture on the same day they receive their implants. However, the entire procedure, from prep work to the final restoration, takes several months.
Although All-on-4 implants offer some advantages, they can make it difficult, if not impossible to maintain a truly clean mouth. Using a floss threader or other tools to clean beneath the prosthesis can only accomplish so much. They are also much more costly to maintain, up to 4X as much, because the dentist or hygienist needs to unscrew them to remove them, repack the access holes and then replace the fillings in the access holes.
Overdentures
Overdentures are similar to traditional dentures in Homer Glen in that they are removable. However, instead of relying on natural suction or a dental adhesive for support, they "snap" onto small abutments that protrude from dental implants that have been placed throughout the jaw. In some cases, a traditional denture can be retrofitted to work with dental implants. Just like the All-on-4 procedure, the process for restoring a patient's smile with overdentures can last for a month or longer.
The primary advantage of overdentures is that they are easy to clean. When you remove them, you can thoroughly clean the dentures themselves, the area around the abutments, and the abutments themselves. Also, they make dental visits a breeze because the hygienist does not have to unscrew a fixed denture before cleaning your implant abutments. The remarkable cleansability of overdentures
reduces the risk of gum problems and enables you to enjoy fresh breath and a confident smile.
Which One Is Better?
For patients who are good candidates for them, which are most patients, overdentures are often a better option than All-on-4
dentures because:
It is impossible to overstate the importance of cleansability. The cleaner your mouth is, the lower
your risk of dental and systemic health problems.
Locator attachments are often used to secure overdentures in a patient's mouth. These attachments are easy to use and provide outstanding durability. Best of all, they can be easily removed and cleaned by the patient.
The Absolute Best?
But, what is the best implant-supported prosthesis that can be made?  The most life-like, attractive, secure, and easily cleansable, as close to natural teeth restoration?  It is the all porcelain bridge, just like dentists make for natural teeth but supported by implants.  With a minimum of six implants per arch, a wonderfully aesthetic, functional and easily cleaned All Porcelain Bridge can be either screwed in, like the All-On-4, or glued in with implant specific cements.  The bridges do not come out, can be easily cleaned by you without taking anything out of your mouth, ever, and the cost of cleanings are like that of natural teeth.
Are you ready to be the proud owner of a restored smile? Ask Dr. DeAngelo, your Homer Glen dentist, about how dental implants can replace your lost teeth.
About the Author
Dr. Alan R. DeAngelo has been restoring dental implants since 1986. He provides All-on-4 dentures, Locator Overdentures and Implant Supported Fixed Porcelain Bridgework.  If you have questions about your options for implant-supported tooth replacement, or you are ready to begin your journey to a restored smile, contact our office  at 708-301-3111.
Comments Off

on Dental Implants: Overdentures vs. Fixed Prosthetics
No Comments
No comments yet.
RSS feed for comments on this post.
Sorry, the comment form is closed at this time.