February 15, 2019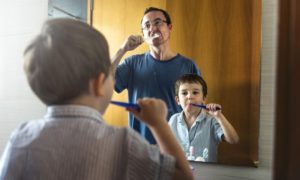 Children have, and continue to be, one of the most vulnerable groups to dental disease. But the negative side effects of dental disease don't only carry the potential to wreak havoc on your child's oral health. They can become so serious that it affects their everyday life as well. However, there are ways to avoid these issues.
That's why for Children's Dental Health Month, you can stay informed on the most common dental issues affecting America's youngest and how routine visits can make a big difference. Consider the facts from a children's dentist in Homer Glen.
The Leading Chronic Issue Among Children
Many people don't realize it, but chronic tooth decay is considered to be the leading chronic health issue for children living in the United States. While asthma is an incredibly common condition as well, tooth decay is even more prominent in specific areas of the country. Millions of children are affected by untreated cavities every day, and a damaged tooth is not the only issue that can present itself.
For example, tooth decay typically results in:
Chronic pain
Increased risk of oral infections and abscesses
Difficulty chewing or smiling
Higher risk of depression
Increased difficulty concentrating
The Long-Term Impacts That Can Appear
While chronic pain is the most obvious negative side effect of untreated tooth decay, it's far from the only repercussion that typically accompanies it.
For example, children who develop tooth decay in primary (baby) teeth are more likely to lose these teeth prematurely. When that happens, permanent teeth begin erupting before they've fully developed, resulting in misalignment and orthodontic issues later. Getting a set of braces placed is not cheap, so it is crucial to make sure that their baby teeth remain cavity-free.
Additionally, children who deal with chronic tooth pain on a daily basis are more likely to miss more days of school and have lower GPAs on average compared to those who do not, according to a study published in the National Center for Biotechnology Information. If you want to make sure that your child succeeds in school, making sure they have a clean bill of oral health is always a priority.
The Key to Prevention
The good news is most dental disease is preventable when you know the right steps. For example, children should be brushing twice a day with a fluoridated toothpaste for at least two minutes at a time. They should also be flossing once a day as soon as two of their teeth touch. For best results, make sure that they brush after meals and only eat sweets after a meal, rather than as a snack.
Furthermore, it's necessary to get them to a family dentist in Homer Glen for routine checkups and cleanings. There, you and your child can learn the importance of drinking tap water, which is fluoridated for enamel protection. You can also take advantage of dental sealants and fluoride treatments, which offer an additional layer of protection from decay-causing bacteria.
Is your child's oral health fully accounted for? Schedule an appointment with a dentist to make sure that you're doing everything you can to protect their oral health!
About the Author
Dr. Alan R. DeAngelo earned his DDS degree from the University of Illinois College of Dentistry. His office provides a wide array of services specifically to help families obtain the best oral health possible, whether it's for them or their children. To learn more about preventive treatments for your child or habits to know at home, you can contact him through his website.
Comments Off

on Common Issues a Children's Dentist in Homer Glen Says You Should Know
No Comments
No comments yet.
RSS feed for comments on this post.
Sorry, the comment form is closed at this time.