March 8, 2019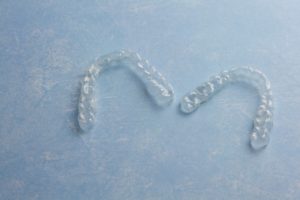 When people think of Invisalign in Homer Glen, they tend to think about how teenagers and adults can straighten teeth without making dramatic changes to their appearance. While these aesthetic benefits are true, Invisalign® can offer so much more than simply an aesthetically pleasing smile. And, when you visit Dr. DeAngelo's office for your Invisalign treatment, you can take advantage of his special offers, including $500 off for a full case of Invisalign treatment or $250 off for Invisalign Express!
To learn more about the benefits Invisalign has to offer, keep reading!
Can I Eat the Foods I Want?
Your series of clear aligners are completely removeable, which means you don't have to worry about changing your diet or removing foods entirely just to undergo realignment treatment. As long as you wear them for the required 20 to 22 hours per day, you can rest knowing that your realignment is happening. With that said, you'll still want to pay attention to foods and beverages that can easily stain teeth and therefore transfer to your aligners. Brushing or rinsing your mouth out with water beforehand as well as regularly cleaning your aligners will both work to prevent staining.
How Long Does Treatment Take?
Treatment time can vary from person to person, but the average treatment times takes anywhere between 8 and 18 months to complete. Compared to traditional braces, which typically takes a minimum of two years to see results, this is a huge benefit for people with only mild to moderate levels of misalignment.
Is Caring for My Aligners Simple?
During your routine oral hygiene, you can easily soak your aligners in Invisalign's own blend of cleaning crystals (or a simple denture cleanser) to break down plaque for easier removal. Not only does this improve your oral health, but it reduces the risk of the aligners staining over time. Just make sure to use a soft-bristled toothbrush to remove remaining plaque and food debris as hard-bristled versions can easily scratch the plastic.
Are Aligners Affordable?
In most cases, clear aligners are comparable to or cheaper than traditional braces. This is mainly because they do not require as many appointments to maintain. Traditional braces require a dentist to manually tighten the hardware that makes teeth shift. Clear aligners are designed with each stage of your realignment pre-planned, making them far more predictable and easier to shift teeth outside of the dental office.
Does Invisalign Benefit My Oral Health?
While many people want a straighter smile through Invisalign, it's not only your appearance that benefits. Straighter teeth are also much easier to clean because they don't carry as many gaps for plaque and food debris to get trapped in. This means not only is your oral care easier, but your risk for developing dental disease is lower. Additionally, straighter teeth are less likely to rub against each other because your bite is more even. This reduces the risk of developing a chronic teeth grinding habit, which can result in enamel erosion and even cracked teeth if left untreated.
Does Invisalign sound like the treatment for you? There's no better time than now to take advantage of specials at our office! Schedule an appointment with a cosmetic dentist in Homer Glen today!
About the Author
Dr. Alan R. DeAngelo earned his DDS degree from the University of Illinois College of Dentistry. He is Invisalign Certified and uses the iTero Digital Impression system to create your Invisalign series without the use of putty impression material. To learn more about his expertise, you can contact him through his website.
Comments Off

on Learn The Functional Benefits of Invisalign in Homer Glen!
No Comments
No comments yet.
RSS feed for comments on this post.
Sorry, the comment form is closed at this time.