November 12, 2019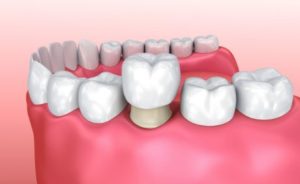 Natural teeth are comprised of two main parts: the root and the crown. When the crown of a tooth is badly chipped or damaged by a severe cavity, a dental crown will restore its strength, function, and appearance. Also called "caps", dental crowns in Homer Glen are designed to look and feel just like your own teeth. And while they won't last forever, they can be expected to last many years with proper care. Keep reading to get a more specific idea of how long crowns last and how you can extend their lifespan with the right maintenance.
How Long Will Your Dental Crown Last?
Just about every type of dental work needs to be replaced eventually. But you'll be glad to know that dental crowns can last 15-20 years, making them a great long-term investment in your dental health.
With that said, your dental work has to withstand strong chewing forces every day, just like natural teeth, and will begin showing the same signs of wear-and-tear such as cracks and chips. In addition, the tooth structure underneath a crown can still develop a cavity if the area around the gumline isn't kept clean. By taking steps to maintain your dental crown, you can minimize these issues and help it last as long as possible.
Maintenance Tips For Dental Crowns
In general, the cleaner and healthier your teeth and gums are, the longer your dental work will last, including your dental crowns. Here are some easy ways to maintain them:
Schedule regular checkups – When you see a dentist in Homer Glen regularly, they're able to monitor your dental crown and make sure no problems have developed. In some cases, small cavities are found underneath a dental crown and can be treated with a simple filling. But if the cavity isn't caught in time, the entire dental crown will need to be replaced.
Keep everything clean – Be sure to angle your toothbrush bristles towards the gumline and also floss daily. This will keep the strip of exposed enamel around your crown clean. It's also helpful to use a fluoride mouthwash each day for extra cavity protection.
Wear a nightguard if necessary – Nighttime clenching and grinding increases the risk of chipping or breaking a dental crown. A custom-made nightguard will protect it.
Avoid bad habits – Don't make a habit of chewing on things like ice, pens, or hard candies that can chip a crown.
Everyone can agree they'd rather not replace their dental work until they have to. With these simple guidelines, you'll maximize the lifespan of your dental crown and help it last as long as possible.
About the Author
Dr. Alan R. DeAngelo is an award-winning dentist in Homer Glen who has completed extensive post-graduate training in several specialty areas. With many years of experience, he's used dental crowns to restore the smiles of countless patients and always provides long-term maintenance tips to help them last. If you have any questions about dental crowns, you can reach Dr. DeAngelo through his website.
Comments Off

on How Long Do Dental Crowns Last and How Can You Maintain Them?
No Comments
No comments yet.
RSS feed for comments on this post.
Sorry, the comment form is closed at this time.