December 3, 2019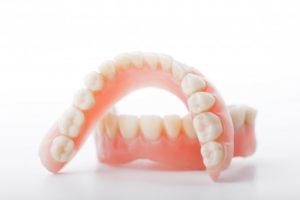 Ill-fitting dentures in Homer Glen can cause a lot of pain and frustration. When trying to replace your missing teeth, the last thing you want is your customized restoration to create an unpleasant experience. Fortunately, your dentist can provide available solutions to fix the problem and have you enjoying your smile for years to come. Discover how new dentures or even dental implants can give you the relief you need and deserve while creating a new and improved smile.
What Causes Dentures to No Longer Fit Properly?
Over time, your dentures may go from feeling and looking great to producing sores and regularly slipping out of your mouth. The reasons for this are many, but one of the most common is age. As you grow older, the shape of your facial structure changes as well as your gum ridges, which can shrink. When this happens, your dentures can become loose.
Additionally, bone can shrink and cause your lower and upper jaws to no longer line up properly. This can create sores in your mouth as well as difficulties in your digestive system because of your inability to chew food properly.
What Are Some Available Solutions to Fix This Problem?
Living with ill-fitted dentures doesn't have to be a reality, especially since your dentist in Homer Glen offers alternative solutions. One of the most common among individuals who already wear dentures is to simply trade in the old ones for a new set.
If you or your dentist see that the teeth in your dentures are severely worn, it's time to get another pair of dentures. While it's possible to reline or even adjust your prosthetics, this can only be done so many times before there's no other option but a replacement.
The alternative solution is dental implants. Your dentist will need to examine your smile and oral structure in its entirety to determine if your bone is strong enough to withstand an implant, but if so, you can have an implant-retained denture put into place. By surgically placing multiple implants into your jawbone, we can secure a custom-made denture that will give you greater stability, functionality, and longevity.
Dental implants are considered a more superior method of treatment because of their added benefits, but they are considerably more costly than dentures, at least in the beginning. Because implants are designed to last a lifetime, many patients conclude that they are more cost-effective in the long run.
If you believe your dentures might need replacing, schedule a time to speak with your dentist in Homer Glen about your options. Whether you choose to simply replace your old ones with new dentures or make the switch to dental implants, you can continue to enjoy a more beautiful smile for years to come.
About the Author
Dr. Alan DeAngelo received his bachelor's degree in biology from the Loyola University of Chicago before enrolling at the University of Illinois College of Dentistry where he earned his bachelor's degree in dentistry and his Doctor of Dental Surgery degree. Continuing to attend many continuing education courses in esthetic dentistry, implant dentistry, occlusion, neuromuscular dentistry, and prosthodontics, he and his team are equipped to provide patients with beautiful, restorative solutions that improve the look and health of their smile. Whether it is dentures or dental implants you need, Dr. DeAngelo is happy to help you on your journey to better oral health. To learn more, contact us at (708) 301-3111.
Comments Off

on Do You Know if Your Dentures Fit Properly?
No Comments
No comments yet.
RSS feed for comments on this post.
Sorry, the comment form is closed at this time.