March 22, 2020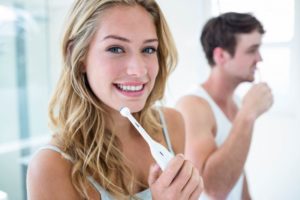 To help fight Coronavirus and prevent its spread, dentists around the country have closed their offices for nonessential treatments. While this may leave those diligent about their routine checkups and cleanings worrying about when their next appointments will be, there is no need to panic! Your dentist in Homer Glen, IL has provided some pro tips on how to care for your smile on your own during quarantine. That way, when their office does reopen, you can pick up right where you left off—with a beautiful and healthy smile.
Better Your Brushing
A healthy smile all starts with a stellar brushing routine. Be sure to brush your teeth twice a day for two minutes each session. You should also angle your brush at 45 degrees on the gumline to remove plaque buildup and prevent infection. If you struggle to brush the full 2 minutes, try playing one of your favorite songs to pass the time!
Don't Forget to Floss
Flossing is another integral part of your dental hygiene. If you think about it, each of your teeth have 5 sides: the front, back, top, left side, and right side. When you don't floss, you're leaving 2 sides of each tooth susceptible to cavities and decay. If you have dexterity issues, or if you simply don't like flossing, you can use pre-strung floss picks. They're easy to handle, disposable, and effective.
Watch Out for Sugar
It may be easy to start snacking with all of this newfound time. Snacking can be bad for your teeth as it doesn't allow your saliva to wash away food debris from the last meal. However, you should especially watch out for sugary foods. When sugar interacts with bacteria in your mouth, it creates acids that eat away at enamel, causing cavities. Thankfully, this can be avoided by limiting your sugar intake!
Drink More Water
Water is your best friend during quarantine! It not only keeps you hydrated, but it promotes saliva flow and washes away lingering bacteria. Plus, most tap water contains fluoride—a naturally occurring mineral that fights off tooth decay and strengthens teeth. So, instead of reaching for a sugary soda, you can turn on your faucet for some healthy tap water.
See You Soon!
Your dentist in Homer Glen has closed their doors to help get the community back to their full health, however they are still ready and available to treat dental emergencies. Your dentist will be accepting emergency visits until Coronavirus has stopped spreading. Then, they will open their doors to meet any of your oral healthcare needs. They can't way to see your smiling face back in their office!
Meet the Dentist
Dr. Alan R. DeAngelo is an experienced dentist who is ready to help in your time of need. He understands that the spread of COVID-19 has caused uncertainty, but he will always be here to provide high-quality care for the community! If you have any questions, he can be reached through his website or by phone at (708) 301-3111.
Comments Off

on Some Easy Tips to Keep You Smiling During Quarantine!
No Comments
No comments yet.
RSS feed for comments on this post.
Sorry, the comment form is closed at this time.