April 29, 2020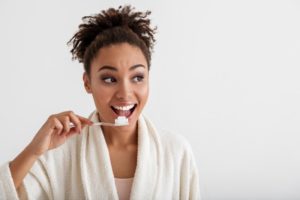 If you brush, floss, and maintain a good dental hygiene routine at home, then you're already on your way toward a healthy mouth. However, during COVID-19, there are some important changes you can make to your at-home care that will help prevent infection. Keep reading to learn some easy ways you can upgrade your oral health routine to avoid the Coronavirus according to your dentist in Homer Glen.
Wash Your Hands Before Brushing
Studies have shown that one of the main ways the virus is spread is through touch. That's why it's important to avoid touching your mouth and face. However, you may be forgetting this during your brushing and flossing routine. That's why it's best to get in the habit of washing your hands before beginning your dental hygiene. Remember to rinse your hands for at least 20 seconds for effective cleaning.
Disinfect Your Toothbrush
Your toothbrush is unfortunately home to germs and bacteria. That's why you should disinfect your brush once each week using these easy yet effective COVID-19 dental tips in Homer glen:
Soak the handle and brush in a 70% alcohol mixture or 1-part household bleach and 9-parts water.
Run your toothbrush through full dishwasher cycle.
Boil your toothbrush for 5 minutes to disinfect it.
You should also rinse your brush in hot water after each use to try to prevent bacteria from lingering on the bristles.
Store Your Brush the Right Way
After you're done brushing, it's important to let your brush air dry. Do not store it in a dark or enclosed environment because this promotes the growth of bacteria. While travel containers are made for toothbrushes, they should be avoided to let your brush dry properly. Additionally, make sure that you're storing your brushes away from your other family members' oral health supplies to prevent germs from spreading.
Don't Share Dental Supplies
The easiest way to spread bacteria in your family is by sharing oral health supplies. Ensure that you each have your own toothbrush and personalize them or get different colors so there aren't any mix ups. Also, it helps to buy your entire family's brushes at the same time because it makes it easier to remember when to replace them (every 3 to 4 months or when the bristles start to fray).
During this uncertain time, remember these imperative changes in your oral health routine to not only keep your smile healthy, but to lower you and your family's risk of being affected by COVID-19.
Meet the Dentist
Dr. Alan R. DeAngelo knows that you may be anxious about your health during this time, which is why he wants to provide you with some ways to keep you and your loved ones safe. While his practice is closed to prevent the spread of the Coronavirus, he is ready to help in the event of a dental emergency. If you have any questions, he can be contacted through his website or by phone at (708) 301-3111.
Comments Off

on Upgrade Your Oral Healthcare Routine to Prevent COVID-19!
No Comments
No comments yet.
RSS feed for comments on this post.
Sorry, the comment form is closed at this time.