August 14, 2020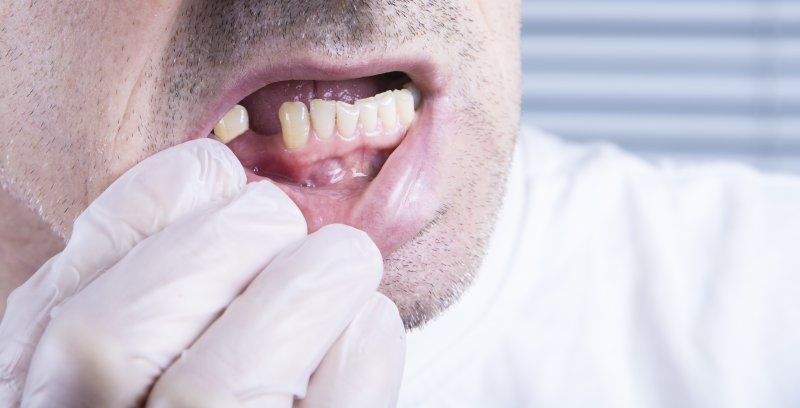 Missing teeth are a nuisance. Not only does it cause you to lose confidence in your appearance, but it also wreaks havoc on your health and wellbeing. Each time you lose a tooth, your jawbone is affected. What was once a strong, sturdy foundation slowly begin to weaken over time, resulting in changes in your facial shape and the potential for additional tooth loss. How is this possible? What can you do to prevent bone resorption? A local dentist explains why dental implants in Homer Glen are not meant to only improve your aesthetics but also rebuild your tooth structure from the root up.
How Tooth Loss Leads to Bone Loss
It is the goal of every dental professional to help you maintain your natural, healthy teeth. Not only does this ensure you have improved comfort, speech, and aesthetics, but it also makes it possible to have a normal oral function and better health. Unfortunately, whether caused by decay, gum disease, or trauma, missing teeth can lead to a host of problems, one of which is bone loss.
The jawbone (alveolar bone) is a living tissue in your body. As you age, cells develop and eventually resorb before being replaced by new cells. The daily functioning of your jawbone through chewing and speaking helps to make this continuous cycle move at a proper pace. However, the moment you lose a tooth, it puts a kink in the cycle. In this particular area of your jawbone, stimulation ceases, and the ability to produce new cells beings to slow, causing the bone to gradually decrease in density.
This process begins to inhibit your ability to chew and speak clearly, and it can lead to additional tooth loss over time. Not to mention, the basal bone (the area beneath your jawbone) can begin to resorb, causing changes in your facial shape to occur (i.e. lowering of the nose, upward rotation of the chin, hollowing of the cheeks).
So, what can you do?
The Benefits of Dental Implants
Researchers have discovered individuals with missing teeth for at least a year can expect their jawbone density to decrease by 25%. This is why it is so important to seek professional assistance when dealing with a missing tooth. The sooner you are treated, the greater your chances of maintaining your facial shape and avoiding additional tooth or bone loss.
While there are many restorative solutions available, one stands above the rest, offering benefits that cannot be achieved by any other tooth replacement option – dental implants. Using titanium posts, your dentist can surgically place them into the areas of your jawbone with missing teeth. Whether you're missing one, multiple, or an entire arch, your dentist will determine the appropriate number of posts to place before having a customized restoration secured to the top to restore your smile.
These implants are designed to mimic your natural tooth structure, allowing for continued stimulation of the jawbone. Because it acts just like the root, you won't have to worry about bone resorption or nearby tooth loss with dental implants. Instead, you can enjoy a fuller, complete smile that is healthy, strong, permanent, and long-lasting.
If you're suffering from tooth loss, don't wait to seek help. Find a local dental professional who can minimize the problems caused by missing teeth and help you start enjoying your smile once again.
About the Author
Dr. Alan DeAngelo received his bachelor's degree in biology from the Loyola University of Chicago before enrolling at the University of Illinois College of Dentistry where he earned his bachelor's degree in dentistry and his Doctor of Dental Surgery degree. Completing many continuing education courses in esthetic dentistry, implant dentistry, occlusion, neuromuscular dentistry, and prosthodontics, he and his team are equipped to provide patients with beautiful, restorative solutions that improve the look and health of their smile. Whether it is dentures or dental implants you need, Dr. DeAngelo is happy to help you on your journey to better oral health. If you could benefit from a more permanent solution to replace your missing teeth, contact us at (708) 301-3111.
Comments Off

on The Connection Between Bone and Tooth Loss
No Comments
No comments yet.
RSS feed for comments on this post.
Sorry, the comment form is closed at this time.