November 10, 2020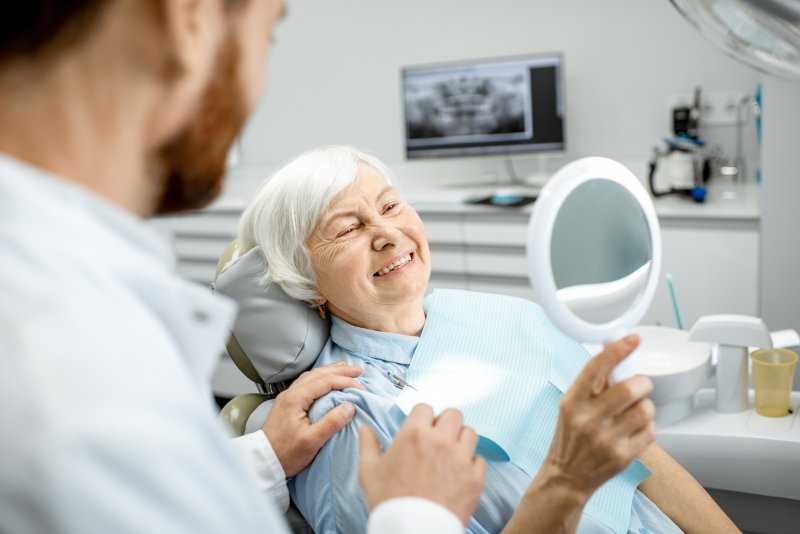 If you've recently broken your dentures in Homer Glen, it's understandable that you might feel somewhat panicked because of the situation. Fortunately, there are steps you can take to minimize further issues and get back to enjoying your healthier smile in less time. But before you start taking matters into your own hands, let a local dentist explain what you can do to handle the situation at home and what you should consider when scheduling an appointment.
What You Should Do When Dentures Break
There are several steps you should take when you first notice that your dentures are broken or damaged.
Assess the damage. Is a tooth broken or did the denture break in half? Is the acrylic damaged? Did the metal clasps of your partial break? Knowing what is wrong with your denture will help when it comes to explaining it to your dental team.
Call your dentist. You will need to tell a member of the staff about your situation and let them determine if you should come in right away or wait until a later time to see the dentist. While it is considered a dental emergency in Homer Glen, your dental team will work to get you in as quickly as possible to help remedy the situation.
Don't attempt to fix it yourself. You may be tempted to break out the superglue or another adhesive, but the truth is that you could actually do more harm than good. Not only will it most likely break again, but these alternative glues can be dangerous to use and are not designed to be used on oral prosthetics.
Fixing Your Dentures and Considering Alternative Options
The last few steps you'll need to take should your restoration break is to contact a professional who specializes in dentures and who offers alternative tooth replacement solutions. Dr. DeAngelo not only provides patients with new full or partial dentures, but he can also repair your prosthetic should it become damaged over time. It's important that should you opt to replace your broken dentures that you see someone who is qualified and trained to provide the level of care you need.
You might also consider alternative options for replacing your dentures such as All-On-4 dental implants. Instead of relying on traditional prosthetics that simply sit on top of your gums and require frequent replacing, Dr. DeAngelo will partner with an oral and maxillofacial surgeon who will insert four dental implants into your jawbone and create a stable foundation for a custom-made denture. Using titanium posts, he can identify the areas of your jaw that are most dense, surgically placing each implant into its desired location. You'll then receive a temporary denture the same day, which you will wear until your permanent one is created and put into place.
Yes, broken dentures can be unnerving, and the process of replacing them can take time. But no matter whether you choose to move forward with a replacement prosthetic or inquire about the potential for All-On-4 implants, you can expect to receive outstanding results.
About the Author
Dr. Alan DeAngelo enrolled at the University of Illinois College of Dentistry where he earned his bachelor's degree in dentistry and his Doctor of Dental Surgery degree. Continuing to attend many continuing education courses in esthetic dentistry, implant dentistry, occlusion, neuromuscular dentistry, and prosthodontics, he and his team are equipped to provide patients with beautiful, restorative solutions that improve the look and health of their smile. Whether it is dentures or dental implants you need, Dr. DeAngelo is happy to help you on your journey to better oral health. Recently damaged your prosthetic? Contact us at (708) 301-3111 and let us help.
Comments Off

on Broken Dentures: Is It a Dental Emergency?
No Comments
No comments yet.
RSS feed for comments on this post.
Sorry, the comment form is closed at this time.