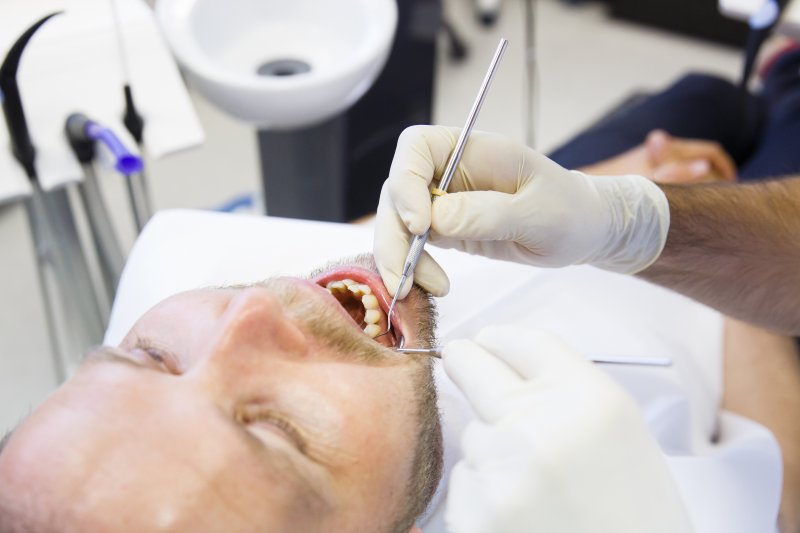 Gum disease in Homer Glen is one of the most common oral health problems seen by dentists. With millions unknowingly living with it, the signs can often go undetected if regular dental checkups and cleanings are not part of a person's yearly routine. Depending on the stage of the disease, it may or may not be possible for your dentist to reverse your current symptoms. Read on to learn whether there is a "cure" for periodontal disease and what you can do to avoid it from the start.
Can Gum Disease Be Cured?
Gum disease occurs in various stages. Although there is technically no "cure," symptoms can be reversed if caught early on. Through regular dental checkups and cleanings as well as good at-home oral hygiene practices, it is possible to treat gingivitis and eliminate red, swollen, bleeding gums. Because this is the initial stage, it is imperative you seek professional help the minute you notice a change in your gum tissue.
Other stages of gum disease include:
Mild Periodontitis: If bacteria continue to attack soft oral tissues without intervention, it will spread to the bone and negatively impact the way it supports your teeth. At this stage, scaling and root planing are necessary because regular brushing at home is no longer enough to stop the spread and additional damage.
Moderate Periodontitis: Deep gum pockets will form, easily trapping bacteria and further weakening your bone and tissues. Infection and inflammation can enter the bloodstream and travel to various parts of the body causing significant health-related problems (i.e., dementia, Alzheimer's, diabetes, heart disease, etc.).
Severe Periodontitis: Teeth begin to loosen and eventually fall out because the bone is severely damaged (an estimated 50-90%) and can no longer support your teeth.
How to Avoid Gum Disease From the Start
If you want to reduce your risk of developing any of the above-mentioned stages of periodontal disease, you will need to talk to your dentist about safe and effective ways to maintain a healthier smile. You can do this by:
Brushing with a soft-bristled toothbrush twice a day for two minutes using fluoride toothpaste.
Flossing at least once before bed or after every meal.
Rinsing with a mouthwash designed to combat gum disease and is approved by the American Dental Association (ADA).
Keeping your regular dental checkups and cleanings every six months with your dentist in Homer Glen.
Limiting your consumption of sugar and starch to avoid dental caries and gum disease.
Drink plenty of water to help stay hydrated and keep your salivary glands flushing out bad bacteria.
Quit smoking and using tobacco products, as it weakens your immune system and makes it harder to fight off infections.
By taking these steps to minimize your risk for gum disease, you can worry less about the potential for complex restorative care and instead, enjoy a healthier, permanent, and complete smile for a lifetime.
About the Author
Dr. Alan R. DeAngelo is a dentist in Homer Glen who is committed to helping his patients prevent and combat gum disease. Although he provides ways to mitigate the potential risk, he also offers laser-based periodontal therapy and nonsurgical treatments. To learn more about the different techniques and services used to treat gum disease, contact us via the website or by calling (815) 671-4058.
Comments Off

on Is Gum Disease Curable?
No Comments
No comments yet.
RSS feed for comments on this post.
Sorry, the comment form is closed at this time.