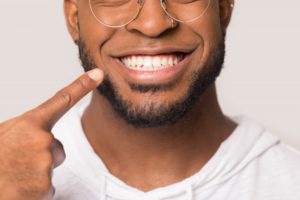 After you cracked your tooth chewing on ice, you visit your dentist to fix the problem. You can't wait because it's actually starting to cause you a little discomfort, and you want to have it looking normal again. When your dentist inspects the tooth, they say you need a restorative crown. You stop and think—does this mean that your crown won't look good? What's the difference between a restorative and cosmetic crown, and how do you know which one you need? Read on to find out!
Restorative Crowns
Although restorative crowns are fabricated to look like real, natural teeth, they are primarily deemed necessary to restore function in teeth that have suffered injury or other problems. As a result, part of the cost is traditionally covered by dental insurance.
Most of the time, dental crowns are used for restorative purposes. Teeth that are badly chipped, cracked, decayed, or even lost need more strength than what fillings can provide. These dental crowns are used to cover these weakened teeth and enable the patient to resume biting, chewing, talking, and other dental functions.
Cosmetic Crowns
For front teeth, your dentist is likely to place a metal-free crown, even for restorative reasons, to avoid attracting the wrong kind of attention to your teeth. However, sometimes dentists choose to put porcelain crowns fused to metal on teeth closer to the back. Although these teeth aren't quite as visible, it is possible to spot these metal-containing crowns. If you would like a more cosmetically friendly option, you should ask about metal-free crowns even for your molars.
If your teeth are misshapen, discolored, or otherwise flawed, your dentist may try to explore other cosmetic options before considering cosmetic crowns. For instance, instead of covering the entire tooth with a crown, they may suggest going with porcelain veneers. These shells accomplish a similar effect but are much less invasive and possible less expensive. However, there are situations, such as with molars, where a metal-free crown is what's needed to improve the appearance of a tooth.
Which Is Right for You?
The easiest way to tell the difference between the two is by judging what the crown will be used for. If you have a tooth that has been injured or damaged, it will likely be a restorative case. However, believe it or not, your dentist can be a great resource for advice. After looking at your teeth, they can tell you whether they think a crown is needed for restoration or merely for cosmetic reasons. Keep in mind that all dental crowns are fabricated with a realistic look in mind, so you may not necessarily have to choose one or the other.
In the end, regardless of the reason for your dental crown, you can relax with the knowledge that your dental prosthetic will help you regain a confident, functional smile!
About the Author
Dr. Alan DeAngelo has been a practicing dentist in Homer Glen for more than 30 years. Although he certainly handles restorative cases, he has undergone special training in aesthetic (or cosmetic) dental procedures as well as prosthodontics. For patients receiving a dental crown, he uses iTero digital impressions system, which is more comfortable and accurate than traditional impressions. If you would like to get dental crowns, you can schedule an appointment at DeAngelo Dental of Homer Glen online or by calling the office at 708-854-5912.
Comments Off

on Cosmetic or Restorative: Which Type of Crown Are You Getting?
No Comments
No comments yet.
RSS feed for comments on this post.
Sorry, the comment form is closed at this time.