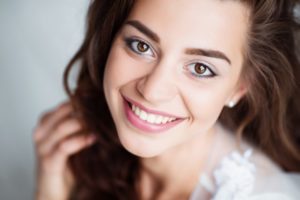 Remember the days when someone was about to take a picture and you would flash your smile with no hesitation? If your teeth are yellow or appear dull, you might feel self-conscious and try to cover them as much as possible. Although a discolored grin can be embarrassing, don't worry – you're certainly not alone. It happens to everyone over time whether it's from natural causes or of their own doing. Fortunately, there are many ways you can prevent further staining and get your pearly whites bright once again! Read on as your dentist explains how to get whiter teeth in Homer Glen.
Why Do Teeth Turn Yellow?
If you're an avid brusher and flosser, you might be wondering how your smile dimmed over time. Unfortunately, even if you're diligent about following your oral hygiene routine, other factors can affect the color of your teeth, such as:
Frequent consumption of acidic foods and drinks (coffee, tea, soda, red wine, tomato sauce, berries)
Smoking cigarettes and using other tobacco products
Thin enamel that shows the slightly yellow layer underneath (dentin)
Dry mouth
Genetics
Aging
How Can You Get a Whiter Smile?
Although some factors like genetics and aging are outside of your control, there are several steps you can take to preserve a bright smile.
Practice Good Oral Hygiene
Being meticulous about your oral hygiene is the key to keeping your teeth white. Residual food particles, bacteria, and plaque can stain your pearly whites if not removed properly.
Be sure to brush your teeth twice a day for two full minutes each time. Don't forget to floss daily as well! It's the best method of removing unwanted debris from the hard-to-reach areas of your mouth.
Be Cautious of Stain-Causing Foods
Aside from oral care habits, your diet can also influence the color of your teeth. Be mindful of foods and drinks well-known for staining teeth, such as red wine, berries, coffee, soda, and tea. They're okay to consume in moderation, but don't call upon them too often.
Protect Your Enamel
Weak or thin enamel might be why your smile isn't as bright as it used to be. Unfortunately, it cannot be repaired or restored once it's worn down. That's why enamel protection is so important! Fluoride, a mineral found in most toothpaste, can help strengthen it. Not only does it lower your risk of decay and cavities, but fluoride also helps prevent further staining and discoloration.
Teeth Whitening Treatment
If you want to brighten your grin instantly, the most effective solution would be to undergo professional teeth whitening in Homer Glen. Most dentists offer it at their office location and whitening kits you can take home, both of which can give you dramatic results. With the in-office option, you can have a significantly brighter smile in as little as one hour! But if you'd rather whiten your teeth without leaving the house, a take-home kit is utilized for a couple of weeks.
Are you unhappy with the change in the shade of your smile? Now that you know how to get whiter teeth in Homer Glen, it's time to regain a grin you are proud to share with the world!
About the Author
Dr. Alan DeAngelo earned his dental doctorate from the University of Illinois. Making sure to be diverse in his continuing dental studies, Dr. DeAngelo has expertise in everything from dental lasers to Invisalign. Since 2008, he has been named one of America's Top Dentists by the Consumer Research Council. If you are looking to brighten your smile, he offers your choice of Zoom! Whitening in the office or a customized at-home whitening system. To get started, schedule an appointment on his website or call (708) 854-5912.
Comments Off

on Tips for Whiter Teeth That Actually Work
No Comments
No comments yet.
RSS feed for comments on this post.
Sorry, the comment form is closed at this time.