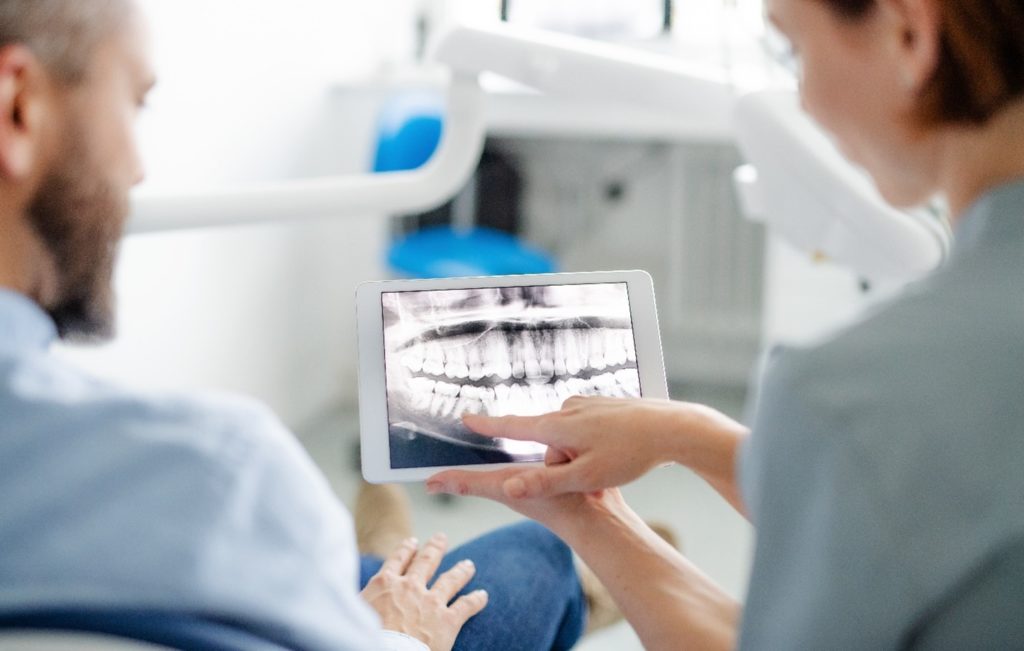 Brushing, flossing, and limiting your consumption of added sugar are all good oral health best practices. Ultimately, however, your dental care regimen is incomplete without biannual checkups and cleanings with your dentist. These routine visits are essential because they remove stubborn plaque, clean the hard-to-reach areas of your mouth, screen for oral cancer, check for cavities, and much more – all in one appointment too!
Periodically, your dentist may recommend having dental X-rays taken as well. But how do these images play a role in promoting healthy teeth and gums? To find out, read on!
Why Your Dentist Takes X-Rays
To assess the state of your oral health, your dentist will conduct a visual exam. With their highly trained and experienced eyes, they will look for warning signs of deeper issues, like discoloration, gum recession, and inflammation. In order to look past the tissue and between your teeth, however, your dentist needs assistance. That's where dental X-rays come in. With a few quick X-rays, your dental team can detect a wide range of oral health concerns, including decay beneath fillings, bone loss in your jawbone, cavities between teeth, and cysts.
3 Common Types of X-Rays
Depending on your dental needs, your dentist will use one of the below types of X-rays:
Bitewing – Commonly used to check for cavities between teeth, with this X-ray you will bite down on a special piece of paper so your dentist can see how well the crowns of your teeth align.
Periapical – This type of X-ray is used to take a deeper look at just one or two teeth.
Panoramic – In this case, your dentist will use a machine that rotates around your head. Most often, this is used to check your wisdom teeth, investigate jaw problems, and plan for oral surgery, like dental implants.
How Often Are X-Rays Needed?
Since everyone's oral health needs are unique, there isn't a one-size-fits-all answer. For example, if you were recently diagnosed with gum disease or struggle with tooth decay, then your dentist may recommend having X-rays taken every six months. If you don't have any ongoing dental problems and have healthy teeth and gums, then you may get X-rays taken every two or three years. It's also common for patients to have their X-rays taken when transferring to a new dental practice. That way, the dentist has a clearer understanding of your dental history and current oral health.
Ultimately, X-rays allow your dental team to have a bigger picture perspective on your oral health. Plus, they can catch dental concerns, like cavities, much earlier, benefiting your smile and your wallet!
About the Practice
Dr. Alan R. DeAngelo's journey to becoming a Homer Glen dentist began at the Loyola University of Chicago, where he was a member of the Alpha Epsilon Delta Premedical/Dental Honor Society. From there, he earned his Doctor of Dental Surgery from the University of Illinois College of Dentistry. However, his pursuit of education did not end there. Throughout his career, he has undergone advanced training on esthetic dentistry, occlusion, prosthodontics, and more. Plus, he is certified in dental lasers and Invisalign! If you have a question about preventive dentistry or you'd like to schedule an appointment, don't hesitate to visit our website or call (708) 854-5912.
Comments Off

on You Asked, We Answered: Why Do Dentists Take X-Rays?
No Comments
No comments yet.
RSS feed for comments on this post.
Sorry, the comment form is closed at this time.