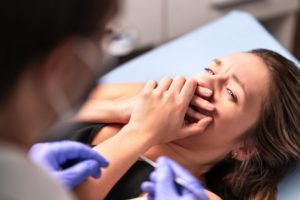 Perhaps you're a naturally safety-conscious person. Maybe you've heard horror stories that have you worried about cosmetic procedures. Regardless of the situation, you want to correct flaws in your teeth, but you're a little concerned about whether cosmetic dentistry is safe.
In many cases, caution is a good thing, but you shouldn't let it hold you back from the smile you want! Keep reading to understand why you shouldn't worry about safety and how your dentist keeps you safe throughout treatment.
Making Permanent Changes to Your Teeth
While some cosmetic procedures, like whitening or cosmetic bonding, do not require making permanent, structural changes to your teeth, others do. For instance, for crowns and veneers, a small portion of the enamel will need to be removed—just enough so it doesn't look too large or unnatural—allowing the restoration to fit over the tooth. Gum recontouring involves removing slivers of gum tissue to reveal more of the tooth structure underneath. For these treatments, you need to be certain about your treatment plan because they cannot be reversed afterward.
That's why a consultation with your cosmetic dentist is so important to confirm your needs and goals!
However, even if the treatment you choose does alter your teeth, you don't have to worry about safety when you find the right dental team.
Working with an Experienced Cosmetic Dentist
When it comes to perfecting smiles, clinical experience and training matter. Although any dentist can offer cosmetic treatments, you will have more peace of mind turning to someone who can prove their prowess.
An experienced cosmetic dentist will have undergone advanced coursework, have invested in proven technology, and have an extensive before and after photo gallery of past patients. As a result, you can see for yourself what your dentist is capable of and feel more confident going into treatment.
Keeping You Comfortable
Before doing anything drastic with your smile, your cosmetic dentist will make sure that you stay completely comfortable throughout treatment. In the case of getting crowns, veneers, or other more invasive procedures, a local anesthetic may be given to numb the area. That way, you feel no discomfort whatsoever. For gum recontouring, the soft tissue laser is so gentle that you may not even need anesthetic!
As long as you get treated by a highly trained cosmetic dentist who knows what they're doing and has your goals and needs in mind, safety isn't an issue you need to worry about, no matter how complex or simple it may be. You can focus exclusively on how amazing your smile will turn out after treatment!
About the Author
When it comes to training, Dr. Alan DeAngelo has gone above and beyond what general dentists normally do. In his 30 years of practice, he has become laser and Invisalign certified and studied for years in esthetic dentistry. He takes pride in changing patients' lives by improving their smiles and gives each patient a personalized experience from beginning to end. If you have concerns about the safety of cosmetic dentistry, you can contact our team at DeAngelo Dental of Homer Glen by calling 708-854-5912 or request an appointment here.
Comments Off

on Is Cosmetic Dentistry Safe? Put Your Fears to Rest
No Comments
No comments yet.
RSS feed for comments on this post.
Sorry, the comment form is closed at this time.